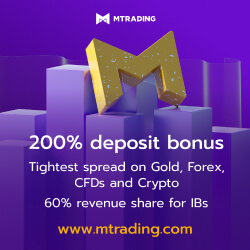 Dear Trader,
We are aware that at times it can be very hard to read and understand what the market is going to do next. As a result, we have partnered up with Autochartist to assist you with such issues.
What is Autochartist?
Autochartist is the world's most advanced tool for the automatic identification of chart patterns and Fibonacci patterns. The technology allows customers to monitor thousands of financial instruments 24 hours per day automatically uncovering trading opportunities as they occur.
How does it help me as a trader?
Autochartist has the function of sending out market updates 3 times per day (Asian, European and US) directly to your email. As a result, you will immediately have some trade ideas and can base your trading decisions on them. It will help you understand the market better.
How to start receiving the market updates?
Write an email to hello@mtrading.com and let us know for which trading sessions you would like to receive the notifications for. On the following day, you should already start receiving the notifications.
If anything stays unclear, please let us know and we will gladly assist you.