Dear MTraders,
It's time for a major Trader's Room update you've been looking forward to. Meet your personal multi-currency wallet, a secure and convenient money management tool for you to withdraw, store, receive and transfer funds between your trading accounts.
With the Wallet, you'll be able to:
Control your funds from your Wallet and feel safer in case the markets don't favor you.
Keep all your funds securely in one place. Fund any of your accounts instantly, manage your balances and schedule your withdrawals with ease.
Convert money into different currencies. The wallet supports multiple currencies at once.
Deposit and withdraw funds much faster than before.
Moreover, there'll be no need to transfer partnership commission to a trading account for withdrawals.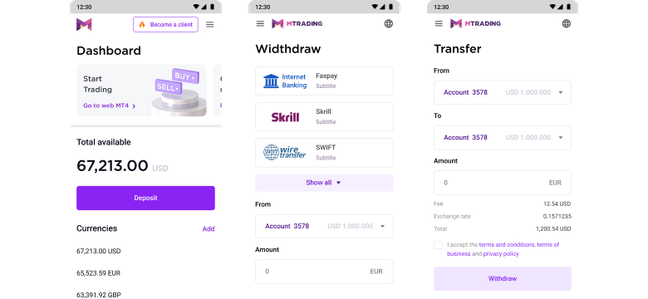 The Wallet is now your central financial repository helping you handle payment operations even easier, safer, and faster than before! For example, you'll only need to deposit once and then distribute funds between accounts rather than depositing for each account separately and losing precious time you could use to catch a trend and make a profit.
Check out your new smart money-management tool right now!
May the trading luck be with you!