Forex trading is introduced by one of the biggest markets in the world. It is not just about the size of the FX market. It is about liquidity and volatility. Market participants can buy and sell different currency pairs inequivalent to billions of dollars daily 24/7.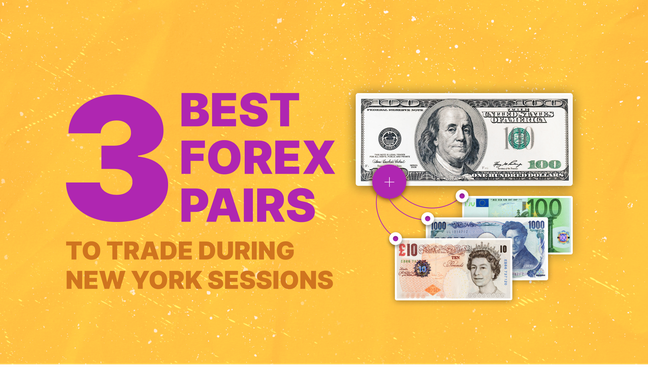 However, to access the market whenever you want, you will have to switch between different Forex trading sessions. In this article, we will discuss the best Forex instruments to buy and sell during New York sessions.
Forex Trading New York Session Explained
Generally, New York sessions are dedicated to the most active Forex traders. It is the 4th major session on a trading day. This time is very important for all market participants involved, as a high volume of major currencies is bought and sold.
This fact delivers a great amount of market liquidity. Besides, New York sessions make it possible to trade with a higher volume and more often because of the London session overlap. In simpler words, these sessions appear to be the best time to focus on profitable trading opportunities.
Forex Trading Hours during the New York Session
When we say "New York session", we mean the official trading session for the foreign exchange market taking place in the city of New York, the United States. To enter the market promptly, traders can use two different time zone options:
When using the EST time zone, the session starts at 8 a.m. and closes at 5 p.m.
If considering the GMT time zone, you can trade from 1 p.m. to 10 p.m.
The main benefit here is that afternoon trading hours coincide with the European time zone. During these hours, market players can benefit from increased liquidity and the wider option of profitable market entry opportunities.
Forex Pairs to Trade during the New York Session
The main beauty of the FX market is the ability to trade any currency pair despite the time zone. The only reason why traders keep the focus on a particular time zone is the announcement of specific news or events taking place depending on where they originate.
As we know, different factors can impact the FX market as well as the underlying currency pair. So, one has to monitor different time zones to stay tuned to what is going on in different countries with the strongest economies.
Generally, traders buy and sell currencies with USD involved. Of course, it does not mean you cannot trade, for example, AUD/JPY during New York sessions. However, these instruments will come with a much lower trading volume, because the time coincides with evening hours in Asia.
Nevertheless, pairs like AUD/USD or USD/JPY will still be purchased and sold with higher frequency, as they are major pairs.
Summing up this abstract, you can trade any pair that contains USD during New York sessions to benefit from maximum liquidity and higher traded volume.
Best Forex Pairs to Trade during New York Sessions
One can choose from a wide range of Forex pairs to trade during New York hours. However, the list of top 3 instruments includes the following:
EUR/USD.
GBP/USD.
USD/JPY
Now, let's have a closer look at each Forex pair to make it clear why it is the best option.
EUR/USD
It is the most popular instrument across the globe and the highest-traded currency pair. Besides, New York sessions overlap with European hours. It means that millions of other traders can enter the market to create liquidity. It means more chances to identify a potential market entry position.
GBP/USD
The British pound and the US Dollar represent another popular pair that is widely traded during New York sessions. The main benefit here is that London trading hours overlap with the New York session even for longer compared to the European session. Besides, the pair shows economic relations and health between the two countries and can be used as an indicator.
USD/JPY
This Forex pair is great to choose by the need of a trading day. It kicks market players to the time when Asian traders are awake and start acting. What's more, USD/JPY has made a name for itself as a safe haven instrument, which means lower risks and more potentially profitable trading opportunities.
The Bottom Line
New York sessions deliver many instruments to buy and sell. Market players can select from a variety of major Forex pairs. The session overlaps with trading hours in the UK and Europe, which delivers even more liquidity and volume.
It also makes it possible to trade during Asian hours making it a perfect option for all-day-long buying and selling opportunities. To make the most of New York sessions, it is better to choose currency pairs with USD involved. The top 3 Forex pairs to trade during New York hours include EUR/USD, GBP/USD, and USD/JPY.
This material does not contain and should not be construed as containing investment advice, investment recommendations, an offer of or solicitation for any transactions in financial instruments. Before making any investment decisions, you should seek advice from independent financial advisors to ensure you understand the risks.