Stock market sectors introduce specific stock groups that represent similar industries. Following standards established by GICS, there are 11 different stock industry sectors investors can choose from.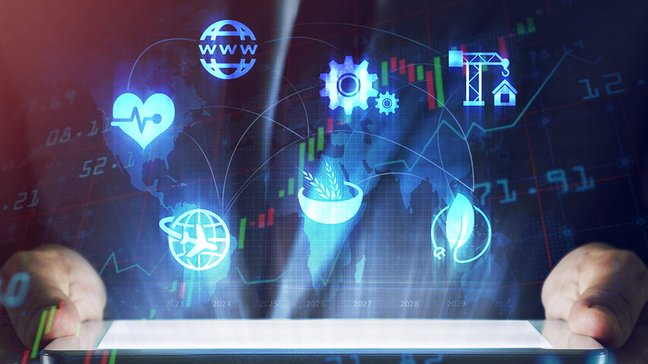 Traders usually divide securities into different groups to make it easier to compare and contrast different companies from the same industry. Also, you have a chance to select the most attractive assets to invest in. Stock sectors make it possible to determine which particular instrument is more likely to make the most profit for you. As a result, you have a tool for proper decision-making and deciding on your next investment step.
In this article, we will review only the most interesting and potentially profitable sectors that may seem like a good idea for investment considering the rapidly changing geopolitical and economic situation.
Stock Sector 1 – Energy
When sorting a stock market by industry, the energy sector is the first one to consider. It represents companies involved in producing and distributing oil, natural gas, coal, ethanol, and other resources. Additionally, this particular stock sector covers businesses that deal with natural resource exploration.
The main benefit of the energy sector is that you may choose among companies that do not only explore or produce, but also develop niche-specific equipment, materials, etc. Additionally, it can be a good idea to keep an eye on companies that deal with renewable sources of energy as the globe's main trend today.
Examples of stocks representing energy sectors: ExxonMobil (NYSE:XOM) and Chevron (NYSE:CVX).
Stock Sector 2 – Materials
With so many sectors of the stock market, choosing the one you like will hardly be a challenge. The materials sector is another great industry to look for investing in.
The field introduces companies that provide niche-specific products that are widely spread in manufacturing. When we say "materials". We generally mean supplies required by chemical producers, construction companies, packaging, and container manufacturing.
In this sector, you can come across smaller businesses that issue mini stocks. They generally specialize in paper and forest product manufacturing.
Examples of stocks representing material sectors: a popular pain producer Sherwin-Williams (NYSE:SHW) and chemicals manufacturer DuPont (NYSE:DD).
Stock Sector 3 – IT
The information technology sector is on the rise. The demand for software and digital apps is growing every day. This is why considering stocks issued by software producers, branded development teams, and device manufacturers is also a good decision.
Smart homes, IoT platforms, cloud storage providers, SaaS platform developers, and many other companies are definitely going to stay in the spotlight for the next several years. Keep an eye on not only technological solution providers but also enterprises that deal with building components, equipment, chipsets, hardware, and other tech products.
Examples of stocks representing IT sectors: Apple (NASDAQ:AAPL) and Microsoft (NASDAQ:MSFT) – long-term rivals that have been switching leadership for many decades.
Stock Sector 4 – Industrials
When speaking about the industrial stock sector, we can take into account a variety of companies that deal with producing heavy equipment. Stocks issued by transportation companies, railroads, airlines, and logistic enterprises have always been the #1 choice for long-term investors seeking a steady income.
Additionally, traders may pay attention to other fields of the industrial sector such as engineering, aerospace, defense, and more. The field also covers such niches as machinery production, electrical equipment manufacturing, building products distribution, and so on.
Examples of stocks representing industrial sectors: Boeing (NYSE:BA) and Union Pacific (NYSE:UNP) are among the largest U.S. industrial stocks.
Stock Sector 5 – Real Estate
When considering the real estate stock sector, investors have two different options:
The first one covers stocks that represent newly developed real estate projects that are managed by obtaining tenants for various spaces.
The second option is to invest in real estate trusts. They introduce niche-specific companies and business institutions that act in a variety of real estate industry fields.
A good solution is to take into account shopping mall owners, real estate operators, cellular communication providers, and so on.
Examples of stocks representing real estate sectors: American Tower (NYSE:AMT) and Simon Property Group (NYSE:SPG).
The Bottom Line
No more how attractive stock sectors look, choosing the best one is the question of in-depth research. This is why sorting stock markets by industry is a good approach, as it makes it simpler to compare and contrast different companies introducing similar sectors.
This material does not contain and should not be construed as containing investment advice, investment recommendations, an offer of or solicitation for any transactions in financial instruments. Before making any investment decisions, you should seek advice from independent financial advisors to ensure you understand the risks.