Should I invest in cryptocurrency? A question many beginners ask themselves today. Although the blockchain potential has not been fully released, crypto has turned into one of the major investment trends. It attracts both beginners and pros despite their backgrounds and experience.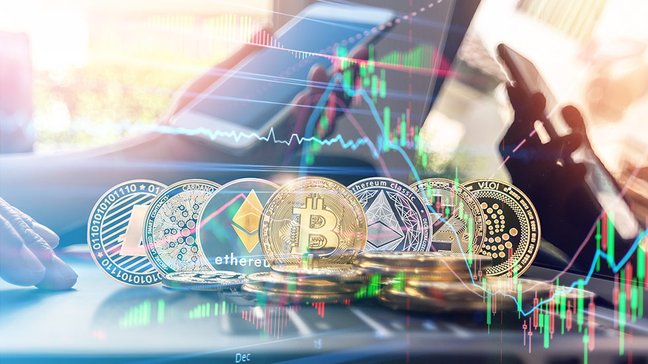 Cryptocurrency trading brings different profit and diversification opportunities. It tends to be a growing mainstream with multiple ways to not just purchase and sell coins but also apply a variety of approaches and crypto trading strategies. Of course, nothing is perfect in the financial market. Buying and selling crypto also comes with certain risks. So, newbies need to learn how to invest in cryptocurrency.
This time, we will mainly focus on major crypto benefits rather than steps to invest in cryptocurrency.
1. Good for Newbies
Like with any other instrument, you will have to learn how to invest in cryptocurrency. The only difference here is that crypto is much simpler to get started, which makes it a good option for beginner investors. The technologies and blockchain concepts behind crypto only seem confusing and complex. In reality, the entire blockchain environment is quite intuitive and straightforward. Of course, you still need to learn some fundamental points that include:
Do not invest everything in cryptocurrency. The asset must represent only a fraction of your capital.
Do not opt for the first token you come across. Do the research, explore different coins, and compare and contrast them using historical data and other market insights.
Choose only time-tested and proven coins to get started.
Select a trusted crypto exchange platform or broker and make sure you have a valid cryptocurrency wallet.
Unlike stocks or traditional currency pairs with extreme volatility and unexpected market moves, well-established coins like BTC can still let you generate a good profit.
2. Diversification Opportunities
As stated earlier, you should not invest all your money in crypto. It should only represent a small part of your capital. This is what experts call a diversified portfolio. It helps to reduce the risk of losing all your funds right at once.
At the same time, investing in crypto provides a great chance to trade instruments that operate in a separate financial sphere or so-to-say environment. It means, coins do not follow traditional trends. They are affected by niche-specific factors that are different from those we can observe in a traditional financial market. In other words, when inflation diminishes the value of stocks, commodities, and other assets, coins can grow in price and vice versa.
3. Potentially High Returns
If you know where and how to invest in cryptocurrency, you can expect dramatic returns. Here is a simple fact: Bitcoin cost a bit more than $112 back in 2012. In 10 years, its price has excessed $57,000. As a result, we have an unparalleled asset that comes with long-term viability and constant growing value though with several drastic drops over the last few years.
4. Transparent Transactions
Digital protection is one of the main factors for modern traders and investors. Users look for safe ways to trade different instruments. That is why most of them tend to invest in cryptocurrency that allows transparent and safe actions for every party involved in a trade, as any transaction is encrypted on a ledger that is publicly distributed.
Experts say cryptocurrency managed to create a new layer of protection. The traditional financial system is far from perfect, featuring companies that often scrutinise their viability and do not provide transparent enough information for traders to make proper decisions. As a result, we may come across the situation also known as the balloon spike. With crypto, none of that can happen.
5. Scalability
Initially, many investors felt sceptical about crypto. They were afraid of buying an asset that actually did not have a regulator. Today, coins are widely spread. Usually, they can be used for transactions and exchanges within the blockchain environment. Additionally, customers can use coins to purchase goods and services online. More and more platforms accept crypto. What's more, some land-based sites now also accept BTC and other major coins.
The Bottom Line
The above-mentioned benefits prove that investing in cryptocurrency can be a good solution. The asset is backed by growing popularity, scalability, ease of use, and chances to get dramatic returns on your investment. What's more, it is also a good way to keep your portfolio diversified.
However, some of these benefits can turn into downsides. No regulative system means coins are not supported by real financial force. If something goes wrong, investors can lose everything. Besides, crypto does not follow traditional financial market rules. This fact can make the process of decision-making quite challenging. Whatever you do, always consider risks and learn how to invest in cryptocurrency before entering the crypto market.
This material does not contain and should not be construed as containing investment advice, investment recommendations, an offer of or solicitation for any transactions in financial instruments. Before making any investment decisions, you should seek advice from independent financial advisors to ensure you understand the risks.