CBDC currency and stablecoins are becoming the dominating force over traditional cash. New types of digital assets introduce a new era that features an increase in the adoption of cryptocurrencies by not only individuals but also businesses and enterprises. It leads to an accelerated movement toward digital currencies and a greater interest from investors eager to trade coins and build wealth.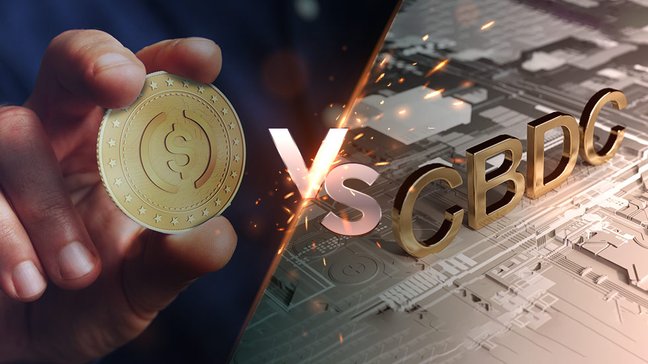 At the same time, the government, investors, and financial institutions are still looking for the ultimate instrument that will ensure faster and safer digital transactions. This is where we actually have two opposing sides with banks relying mainly on central bank digital currency (CBDC) currency as the one to be backed by real funds and individual traders and users opting for stablecoins.
In this article, we will highlight the main difference between CBDS and stablecoins to define, which one will define the future development of the crypto industry.
What Are Stablecoins?
Stablecoins introduce a separate group of digital assets that come with an extra level of security and price stability. The main benefit here is the fact they are supported by reserve assets, for example, gold, USD, or any other currency that has been used before the introduction of crypto.
Stablecoins were introduced to oppose traditional cryptocurrencies such as Ethereum, BTC, etc. Their mission was to reduce the volatility of the most popular coins. As a result, we have a new digital asset that can meet the needs of both businesses and users who regularly complete their day-to-day transactions.
What Is CBDC Crypto?
On the other hand, we have a central bank digital currency that was launched to oppose stablecoins and their phenomena. The key factor is that CBDC currency possesses the quality from the central bank, which means the ability to use it in financial contracts or other peer-to-peer operations and services, for example, marketplaces.
With the growth of CBDC, we can see many platforms appearing to meet the needs of currency users and financial institutions. People can select from various wholesale digital cash payment services and systems that help to maintain tokenized operations with settlement finality. This is what makes CBDC currency so special.
Besides, banks today consider not only Distributed Ledger technologies (DLT) but also other technological solutions and systems for a faster currency implementation. This may also result in a new breakthrough asset that opposes many other coins that are mainly built on DLT-based systems.
Stablecoin & CBDC Advantages and Disadvantages
Needless to say, digital currency has great potential with online technologies evolving. The main advantages are as follows:
Simpler access – digital currency comes with enhanced availability for people with no banking accounts. Some would never believe it but in Africa, only 50% of the population will have bank accounts by the end of 2022. With digital currencies, more users will have a chance to join the global financial ecosystem.
Instant payments – digital currencies are faster to process. It usually takes several seconds to complete the transaction. Unlike traditional operations taking from 24 hours to several days (especially, when it comes to business transactions), it can result in a bigger number of transactions, which also means increased currency flows.
Transparency and security – stablecoins promise safer and more transparent transactions. This is because the asset is backed by reserve assets, which also means stable prices. At the same time, some people still consider the lack of regulation a big risk compared to CBDCs.
More and more banks are likely to use CBDC crypto as a tool to prevent major coins from replacing cash completely. This is why, experts believe that investors should consider CBDC currency as a safer asset to use in the long run, as it will ensure a steadier and more organized fund distribution.
What's more, CBDCs can soon become the national digital currency considering the news about the EU launching digital EUR by the end of 2025. Additionally, the Bank of England has been heard to team up with HM treasury to launch the UK CBDC currency.
The Bottom Line
On the one hand, the situation with CBDC crypto looks more predictable with clear development steps. On the other hand, experts say we are going to witness the development of a so-called hybrid system with both stablecoins and CBDCs used in a combination as a way to expose the gap between digital currencies.
This material does not contain and should not be construed as containing investment advice, investment recommendations, an offer of or solicitation for any transactions in financial instruments. Before making any investment decisions, you should seek advice from independent financial advisors to ensure you understand the risks.