Customizable MT4 templates make it possible for traders to create a unique workspace that meets their trading preferences. This feature may come in handy especially when you need a detailed chart pattern configuration that differs from settings major trading templates in MT4 have by default.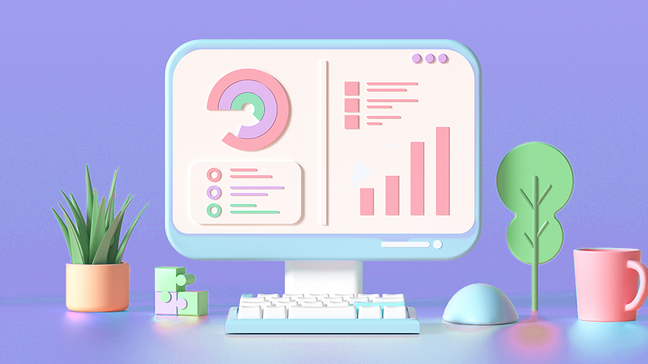 MetaTrader4 is a powerful trading program that makes it possible to learn not only to create but also how to save templates in MT4. Users can customize different factors ranging from color schemes and timeframes to indicator-specific settings that will define how a particular chart will be plotted. The platform also lets you save the layout and reuse it later without creating a new MT4 platform every time you want to proceed with technical analysis.
In this article, we will discuss some easy ways to create and save trading templates in MT4 as well as reasons why you may ever need them.
What Can MT4 Templates Do?
Before we discuss how to save templates in MT4 and create them from the ground, let's have a brief overview of how they may help traders keep control over their actions. A customized and saved template is fast and easy to access pattern layout you can use easily without the need to reload it all the time.
So, how can we customize it? Traders can do many things with their preferrable layouts:
Apply different color pallets;
Set specific chart properties;
Select a set of indicators to be applied to the chart along with their settings;
Apply Expert Advisory to a preferable layout;
Add additional elements and objects to the chart to make it look unique and easy to recognize.
Basically, users are able to change literally any setting in the MT4 template benefiting from individualized trading experience with preferable settings that match a trading technique. What's more, new trading templates in MT4 can be saved by default. It means that the system will automatically depict them every time you start the platform.
Why Traders May Need to Customize MT4 Templates
On the one hand, MT4 is a multi-functional platform that brings everything you might need from the start. However, as time goes by, traders work out specific approaches and tactics that may need improvement from a technical perspective. So, here are some main reasons why you may want to create and save a custom trading platform in MT4:
Foreground charts. They usually have plenty of custom indicators applied by default. As a result, candles are usually drawn over the indicator while you may want it to be the opposite way (an indicator is drawn over the candles). The issue can lead to some indicators being plotted incorrectly. So, it might be the first setting you would like to switch off.
Auto scrolling. The automated feature enables the chart auto-scrolling functionality that takes users back to the most recent point on a pattern. The function seems quite a good option. However, the scroll back happens every time you make a new tick. This can be quite irritating. Besides, it is hard to navigate through recent charts as they do not stay where you left them.
The Show Grid feature. The function displays a grid making the chart look not as clearly as you want it. The problem is that the grid does not bring any useful data. So, a better option is to turn it off.
Steps to Create a Custom MT4 Template
The process is very simple. It does not require any technical background or specific skills. All you need is to prepare a clean chart for the platform. At this stage, you will need to open a new chart and remove all technical drawings including horizontal lines, levels, etc. Additionally, you will have to disable default Expert Advisory and Indicators.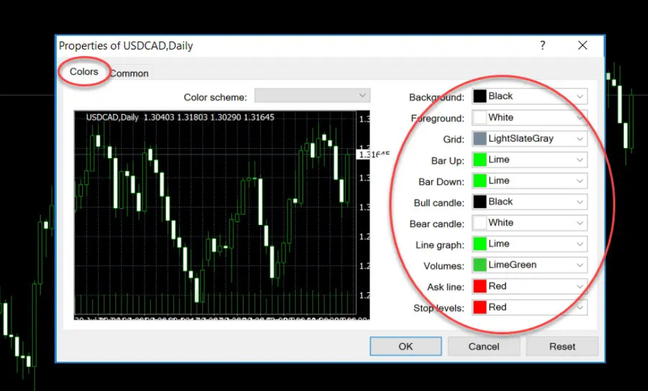 The next stage is to customize the interface with a preferable color scheme. You will find this option in the Chart Properties section. Then, you will need to configure the common tab settings we have discussed a bit earlier. Now, you can add preferrable technical indicators. Simply open the list with all available options and drag-and-drop the needed one to the chart.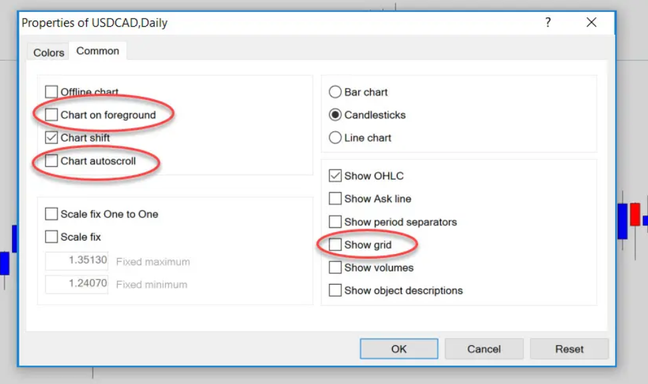 The last thing is to customize indicators' input settings and options. They involve a selection of drawing options, performance settings, customizable values, and more. Additionally, you can connect your custom MT4 template with Expert Advisory including History Data Miner, Trade Copier, and other comprehensive tools.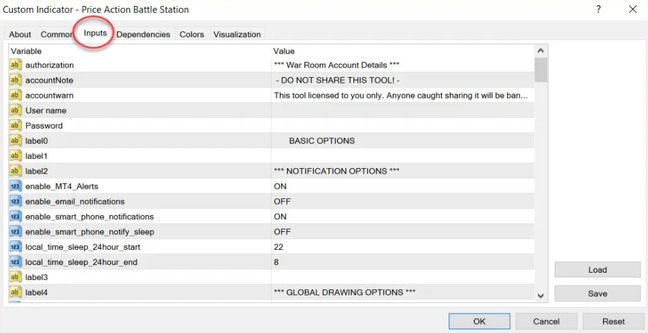 This material does not contain and should not be construed as containing investment advice, investment recommendations, an offer of or solicitation for any transactions in financial instruments. Before making any investment decisions, you should seek advice from independent financial advisors to ensure you understand the risks.