The market is one of the easiest markets to access. It attracts millions of traders who want to buy and sell different currencies round-the-clock and grow wealth. trading provides 24/7 access to global markets with a chance to trade whenever possible using a variety of approaches strategies.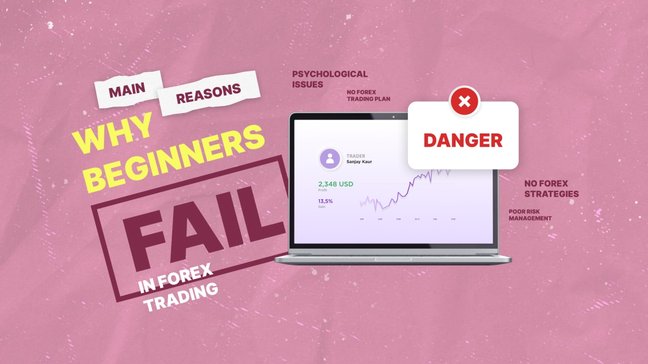 It seems quite easy to start. All one needs is to find a reputable online broker with the best conditions, make a deposit, and buy the first asset. In reality, 95% of all beginners fail. In this article, we will discuss the biggest problems why most amateurs are unable to become successful in the market.
How to Gain Success in Trading
trading is all about discipline and patience. It is the only way to capitalize on available trading opportunities that often appear unexpectedly. This is where you will need to work out a diverse and efficient strategy making sure it can easily adapt to changing market conditions.
A trading plan is another crucial component of overall success. It must include all crucial points of a chosen methodology. What's more, a good plan usually covers money management approaches and techniques to manage risks.
Psychological draining is also very important. Most beginners fail to keep their emotions under control. They often open trades on impulse instead of using proven Technical Analysis approaches to explore the market and make decisions that drive profit.
To make your trading as successful and risk-free as possible, you need to consider the following:
Be realistic with your expectations about the market.
Do not overcomplicate your strategies and approaches. Rely on TA and proven techniques.
Never trade with money you cannot afford. Use smaller accounts to start.
Develop an effective money management strategy and never risk more than you can afford.
Avoid chasing the market noise. Instead, rely on trusted data.
charts are crucial. However, is about trading. So, do not spend much time on charts instead of opening and closing trades.
Your trading must be well-arranged and consistent. Make sure you already have a trading plan.
Losses are natural for any trader. You cannot win all the time. The question is how you will react to failures. Do not take them too emotionally and never chase losses.
As stated earlier, trading is about patience. Keep it calm and wait for the best moment to enter the position.
4 Main Reasons Why New Traders Fail
Now, let's cover some main reasons why 95% of new traders fail to gain success and lose their capital very fast.
1. No Trading Plan
Many beginners think the market is a game. They do not take it seriously. Oppositely, professional investors consider it a business. And every business requires a well-organized plan. It is the only way to become a consistent market participant.
A well-established trading plan contains answers to the following questions:
When do you plan to trade (define a suitable time of the day and trading hours)?
How long do you plan to hold your positions?
How much money can you afford to risk?
Do you have clear trading goals set in advance?
What currency pairs will you mainly target?
If you answer all of the questions above, you have some good chances to work out an efficient trading plan.
2. No Strategies
The lack of tactics is another reason why the majority of newbies fail right at once. The key to success is to discover strategies that are flexible and easily adapted to changing market conditions. This is where you will need to back-test your tactics.
Luckily, the MT4 platform provides enough tools to run your potential approach in the demo mode and check if it may have success taking into account historical price data for the underlying asset. Additionally, you can trade with micro lot sizes that consider using a smaller portion of the asset value. It is a good way for beginners to ride their strategies under real-market conditions with minimum losses.
3. Poor Risk Management
It sounds surprising, but the majority of newbies do not consider risks at all. They think the market is a magic world where everyone can become rich with just a few clicks. The truth is a bit more complex.
trading requires specific knowledge, skills, and technique. What's more, a proper risk-management approach will eventually define the overall success of your trading strategy. The idea is quite simple. Investors need to use different lot sizes depending on the amount of available cash they have in their accounts.
Experienced traders know the golden rule: if you manage your money, you will never lose it. Poor risk management will never let you win trades. Keep that fact in mind.
4. Psychological Issues
The trading mentality is last but not least on our list. trading can be psychologically exhausting. At some point, you might want to give up and quit, especially when you have not had success for a long time. So, you need to be 100% sure a chosen tactic totally matches your trading personality.
It is a common fact that 5% of successful traders spend time on self-improvement to become more mentally and emotionally stable.
The Bottom Line
If you want to find a place just for fun or grab your luck, the market is the wrong place. trading is a complex environment with plenty of conditions you need to take into account. It calls for stamina and mental strength in addition to a well-thought plan, risk-management tools, and the desire to improve yourself as a confident and successful trader.
This material does not contain and should not be construed as containing investment advice, investment recommendations, an offer of or solicitation for any transactions in financial instruments. Before making any investment decisions, you should seek advice from independent financial advisors to ensure you understand the risks.