Nasdaq meaning refers to one of the biggest stock and security markets. Actually, Nasdaq is the second-largest stock exchange where traders process transactions electronically instead of visiting the location physically or interacting with other traders directly. While the New York Stock Exchange is the biggest live platform with live brokers, Nasdaq operates through dealers and attracts more technically involved and oriented investors or businesses.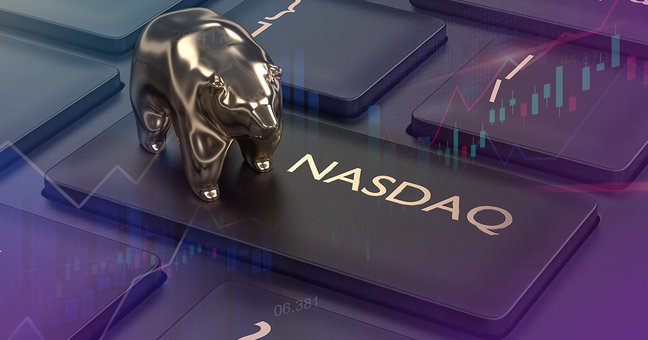 Today, we are going to define the Nasdaq meaning as well as reasons for it to become a smart investment option if compared to other stock trading platforms.
Nasdaq Meaning Defined and Explained
The key factor that makes Nasdaq different from the majority of the biggest stock exchanges is the fact it does not have a physical or live trading floor. All investors engage electronically using an automated computer network. This is actually why the platform was created. The main idea was to oppose brick-to-mortar stock exchanges. With this philosophy in mind, Nasdaq made its debut in 1971.
The origins of the network defined the type of assets investors can find. Considering its high-tech nature, Nasdaq attracts many blue-chip companies, emerging software development teams, and other industry-leading organizations such as Apple, Facebook, Microsoft, and other growth-oriented organizations.
Nasdaq Development and Growth
In 2008, Nasdaq established collaboration with the Baltic and Nordic operator also known as OMX ABO. The partnership made it possible to offer a wider range of trading instruments that include structured products, traded funds, debts, commodities, and more.
More than 3,000 organizations are officially listed in Nasdaq boasting over $14 trillion worth. Besides, the exchange has the highest traded volume if compared to other platforms across the United States.
How Nasdaq Works
While Nasdaq operates as a dealers' market, all orders and transactions are processed by dealers or market makers. No direct interaction with other traders is possible. Here are some crucial points you might want to learn.
Trading Hours
Nasdaq has the same trading hours as the NYSE. Trades are opened at 9:30 a.m. while the stock exchange is closed by 4 p.m. The good news is that traders can benefit from so-called pre- and post-market hours.
Listing Requirements
To get into the Nasdaq listing, a company is supposed to:
Meet specific financial, corporate governance, and liquidity requirements.
Be licensed by the SEC.
Have no fewer than three market makers.
Meet other specific standards.
As a rule, the application is reviewed during the next 4-6 weeks before the company gets approved to be listed in Nasdaq. From that moment, a corporation will be available in three baseline market tires:
Global Market. It offers a list of stocks issued by companies internationally or across the United States.
Global Select Market. It is made up of not only stocks issued in the USA and internationally but also the level of market capitalization. The tier introduces companies that meet the highest standards.
Capital Market. A so-called SmallCap market with companies that have smaller market capitalization rates.
The Bottom Line
Nasdaq is a fully digitalized stock exchange that has grown into the second-largest marketplace after the NYSE. It offers electronic engagement when trading stocks, debts, commodities, and other assets. The platform has some of the biggest and emerging corporations listed. Most of them operate in the field of high-tech and IT, while investors will have several market tiers to choose from.
This material does not contain and should not be construed as containing investment advice, investment recommendations, an offer of or solicitation for any transactions in financial instruments. Before making any investment decisions, you should seek advice from independent financial advisors to ensure you understand the risks.