Xmaster formula indicator is a flexible tool that can be used when trading currency pairs. The great advantage of this indicator is the fact that it suits any timeframe, which ensures measurement flexibility and simplicity.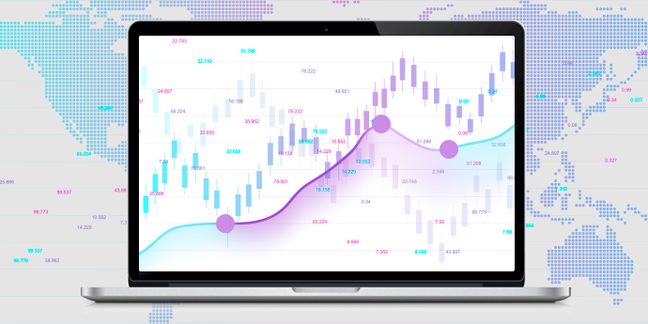 Traders generally use the instrument to define pairs that are in high volatility (mainly during the London trading sessions). Besides, it comes as an intuitive and easy-to-use indicator that makes it possible for beginners and professionals to identify points at which trend begins or ends.
A Xmaster formula indicator will certainly come in handy for both scalpers, who mainly go short, as well as those who opt for medium and long-term trading. What's more, Xmaster formula indicator can be used together with the MetaTrader 4 platform.
In this review, we will show the main indicator's characteristics as well as ways to add it to trading charts.
The Xmaster Indicator Defined
First of all, we need to clarify what the Xmaster indicator is. It is a technical analysis-based instrument used by traders to identify trends. The tool is quite easy-to-apply. One is not supposed to be a proven financial expert to use or read it on a chart.
Despite its simplicity, the indicator may turn out to be a very powerful tool that can be customized to any period. What's more, it can be used across different financial markets.
Judging by the indicator's name, it is clear that we are dealing with a formula-based instrument. It comes with a built-in system that relies on stochastic, MACD, Bollinger Bands, and other technical indicators. They all help locate and identify support and resistance levels along with potential price reversals.
The Xmaster formula indicator comes in many variations and versions. The one thing traders should keep in mind is that it is a no-repaint indicator. So, each version of the tool is quite the same though with a slightly different take on the way one will apply the formula. As for price trend identification, the concept is always the same.
Xmaster Formula Indicator Characteristics
First of all, we need to define the key features that define the indicator. They are as follows:
The indicator can be used to track major currency pairs;
The indicator works during the London trading session;
The timeframes include D1, H1, and H4;
It can be used together with MT4.
Despite the fact the indicator can provide pretty good results at first, it should be used together with other technical indicators that may refer to various categories. You should consider the Xmaster formula indicator as a technical supplement to the overall trading strategy and the in-depth technical analysis.
Note: do not use it as a stand-alone indicator. Include it in the trading system instead.
Tips to Use Xmaster Formula Indicator
All you need is to keep an eye on the lines colored red and green. The red color is associated with buying while the green color is a selling signal (see the image below). If you do not like these particular colors, you can change them in the indicator's settings along with the color of the area.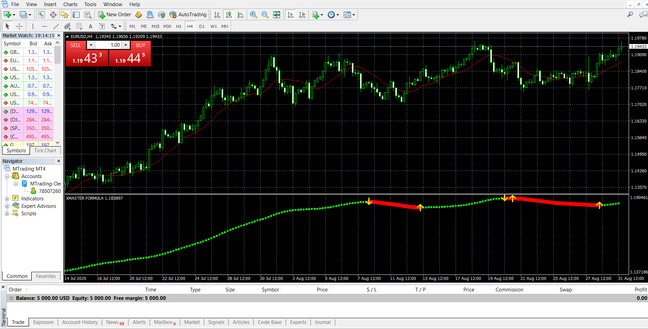 When using the tool, you will need to follow the two basic rules: the Sell and the Buy rule.
Buy Rules for Xmaster Formula MT4 Indicator
The initial version of the indicator does not provide full access to its parameters and codes. Here are some baseline Sell rules you need to follow when using this type of indicator:
"Buy" when both arrows point down simultaneously.
"Buy" in case the price chart comes up with a solid bearish candle.
Use points above the signal candle height to place stop-losses.
Make the price difference every time the arrow turns yellow or consider the resistance support.
Sell for Xmaster Formula MT4 Indicator
And here are some baseline tips to follow the Sell rule:
"Sell" when the indicator turns green.
"Sell" when the indicator and the arrow point up simultaneously.
"Sell" in case the price chart comes up with a solid bullish candle.
Use points below the signal bar to place stop-losses.
Make the price difference every time the arrow points down and the indicator turns red or considers the resistance support.
As you can see, the indicator is pretty simple. It does not require special skills to read the chart. But, as we mentioned earlier, it does not work as a stand-alone indicator. It can be used together with Bollinger bands or Fibonacci to add flexibility and use it during not only London but also New York sessions.
Before we discuss the way to download Xmaster Formula MT4 Indicator and integrate it with your trading platform, let's highlight some of the key pros and cons.
The Xmaster Formula Indicator Advantages and Disadvantages
The no-repaint indicator delivers a set of advantages. First of all, it works great for beginners thanks to its ease of use. At the same time, it makes sense for both beginners and professional traders.
Market participants can use it for an in-depth overview of the current market sentiments. As a result, you can find different potentially profitable market entry and exit points.
The tool is free to use. It can be easily installed and integrated into the MT4 trading platform. However, the tool comes with certain limitations. For instance, traders can overview only current market sentiments. This fact makes the indicator useless for long-term predictions.
Additionally, one should not rely solely on the Xmaster formula indicator, as the chances of missing out are very high. It is better to use a blend of technical indicators.
Pros:
Ease of use.
Good for beginners.
Works for major currency pairs.
Around 70% of signals really work.
Can be adapted to any trading strategy.
Cons:
The signal itself rarely occurs.
It requires discipline and patience.
Fake signals might also take place.
Make sure you have a signal confirmation before taking an action on the market. The key obstacle traders may come across is the fact that the indicator is not integrated with the MetaTrader 4 on default. You will need to install and download it manually. However, the process is very simple, especially when you have all the major steps by your side.
Steps to Install Xmaster Formula MT4 Indicator
First of all, you need to download the setup file beforehand and run the indicator installation. To complete the procedure, you will need to:
Find the XMaster indicator at the trustworthy website and download the installation file.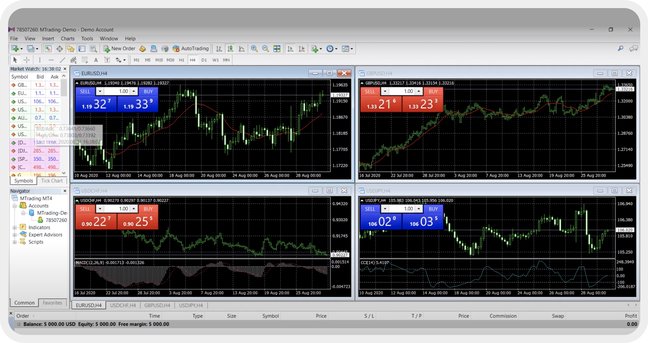 2. Run the MT4 platform.
3. Choose File – Open Data Folder – MQL4 – Indicators.
4. Transfer the Xmaster installation file to the folder inside the indicator.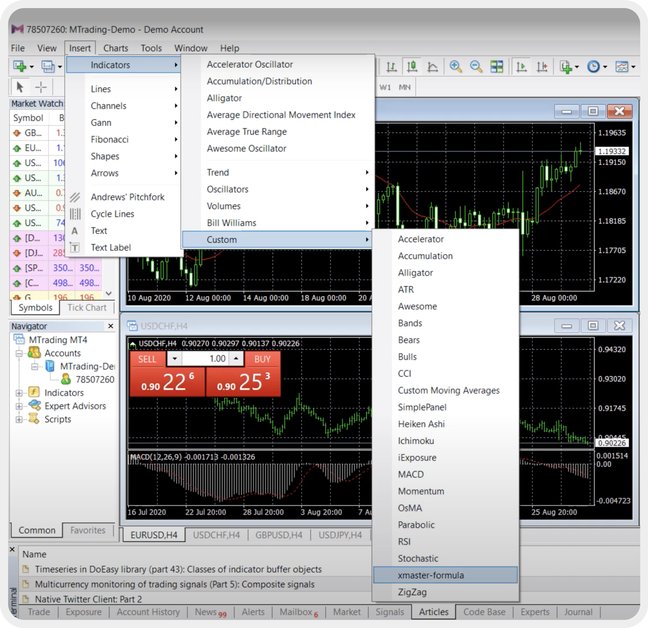 5. Restart the MT4 platform and check if the indicator is available in the Indicators custom section.
If you plan to use it along with the trading chart, you will need to attach it as well letting you use it within any timeframe and for any currency pair without switching between different screens. To add Xmaster Formula MT4 Indicator to your trading charts, you need to:
Find its shortcut in the navigator window (custom indicator menu).
Double click on the window.
Configure settings in accordance with your preferences.
As we found out, the indicator is very easy to use by both beginners and experienced traders. It boasts a high percentage of signals that work although they may occur pretty seldom. Besides, if you decide to use the signal, you need to be very patient and have a signal confirmation every time you are about to take action. Whatever you do, make sure you use Xmaster Formula MT4 Indicator only together with other indicators to customize your trading strategy.
The Bottom Line
The Xmaster indicator is a worthy technical instrument. It can be a powerful tool that works well for either beginners or professional traders. It is very easy to use, install, and apply. It provides enough flexibility as it can be customized to any time frame depending on the trading strategy.
The tool is perfect to identify current market sentiments as well as rising or falling market pressure. It is 100% free to use and compatible with the MT4 trading platform. Traders can select from different formula-based versions that generally bring almost the same concept with only some slight differences.
Summing up, we have a powerful tool to identify price trends featuring a high-level overview of current market sentiments. To make the most of your strategy, it is better to apply a blend of indicators instead of relying solely on one tool.
This material does not contain and should not be construed as containing investment advice, investment recommendations, an offer of or solicitation for any transactions in financial instruments. Before making any investment decisions, you should seek advice from independent financial advisors to ensure you understand the risks.