The popularity of the market grows among traders of all levels. It is available 24/7 despite the location delivering volatile and highly traded instruments. At the same time, users can still come across trading scams and pyramid schemes that come in different ways.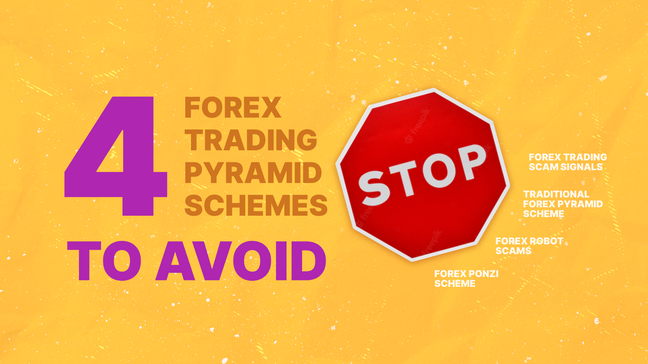 The best way to avoid these scams is to be well aware of how they look and not to be misguided by false promises of a quick and successful start. So, every time you plan to open a new trading account with a specific online broker, make sure you are totally safe while the platform itself is reliable and trustworthy.
In this article, we will reveal some major features and signs of trading scams and pyramid schemes.
How to Detect a Trading Scam?
The good news is that identifying a pyramid is quite easy. One does not have to be a financial expert. All you need is to pay attention to basic details that will let you avoid scams and unreliable platforms.
Abnormally high returns and promises of fast-growing wealth are the first sign of a possible scam. Every time you start thinking, "hey, it seems too good to be true" you would rather look for another online broker.
Always keep in mind that it is impossible to win big without a downside. Additionally, no one will ever share a guaranteed way of successful trading. If you come across such an "expert", he or she is probably a scam as well.
Types of Trading Pyramid Schemes
The only way to protect your capital is to trade with a licensed and regulated online broker. A platform must offer a realistic risk-reward ratio. Although history has already seen some pyramid schemes established also by licensed brokers (for example, Bernie Madoff), they are extremely frequent today.
As stated earlier, another simple way to avoid scams is to know exactly what they look like. We have conducted a list of the most popular and widely spread pyramid schemes that will let you quickly detect potential fraud.
1. Traditional Pyramid Scheme
The idea behind any typical pyramid is to recruit new traders able to pay. They create the first layer and hire new members as well to create the second layer and so on. The owner of the pyramid earns commissions and fees deducted from other members. He or she may not even know how the market works, as the pyramid owner may not even be familiar with trading.
2. Ponzi Scheme
Unlike the first type, the Ponzi scheme describes a fake company that deals with investment management. Typically, the model considers a "financial asset manager" who is supposed to be a trading guru. The company owner offers users to invest in the project and charges fees from the pool of clients' capital managed by an "expert".
You may ask, what is wrong with this scheme? Many experienced traders offer management services as a part of a copy trading solution, which really works. The main problem with the Ponzi scheme is that there is no real investment. Fake companies only take the money and quickly disappear from the financial arena.
3. Robot Scams
Automated trading solutions have become a new trend. At the same time, well-established trading software is widely used by huge financial companies. Trading bots can run multiple strategies simultaneously as well as execute thousands of trades in seconds.
Meanwhile, some developers can create algorithms that will never let you make money. They promise huge profits and offer nothing but so-called "curve-fitting". In simpler words. A software developer finds a trading system that once helped traders make money but is no longer used. A creator develops a fitting version of the algorithms that cannot generate profit in the present.
4. Trading Scam Signals
Similarly to trading bots, signals can also be either real or fake. They are subscriptions used to generate and send buy or sell alerts to traders depending on their preferences strategies. As a rule, fake signal providers share information that is of no use.
Why would someone ever share real signals instead of using them for private profits? However, when dealing with a reliable online broker, trading signals can create more opportunities for profitable market entry or exit.
Way to Avoid Pyramid Schemes
The following simple steps will let you make your trading as safe as possible and protect your capital from fraud:
Verify the trading statements and ask a service provider to prove high results. An individual or platform eager to sell you some information must prove it will really make sense under real market conditions. Besides, one can use different online verification services.
Never share personal data with strangers. Do not provide your financial information to people or organizations you are not sure of. The main mission of scams is to deceive you.
Always look up the company or service provider on forums, lists of officially registered investment companies, financial management experts, and so on.
Compare and contrast different offers, investors' track records, results, and other important information. Do not rush to buy from the first investment guru you come across.
Learn to establish and develop your own strategies or opt for proven financial solutions like copy trading.
The Bottom Line
trading is all about hard work, constant learning, wins, and losses. It is very unlike one would share his or her successful trading strategies with someone else. At the same time, some proven online brokers offer a set of trading solutions that are reliable and safe to use.
Whatever happens, take your time to compare and contrast all available offers, and make sure they are delivered by licensed and regulated companies. Do not trust fake investment experts pyramid schemes. Trade with a long-running and reputable broker instead.
This material does not contain and should not be construed as containing investment advice, investment recommendations, an offer of or solicitation for any transactions in financial instruments. Before making any investment decisions, you should seek advice from independent financial advisors to ensure you understand the risks.