Even a total newbie can make money on a bullish market. At the same time, a few can overcome the cryptocurrency bear market. Also known as crypto winter, these market conditions deliver many difficulties to investors leaving them unable to prevent losses. What's more, every next crypto bear market taking place is even more severe than the previous one.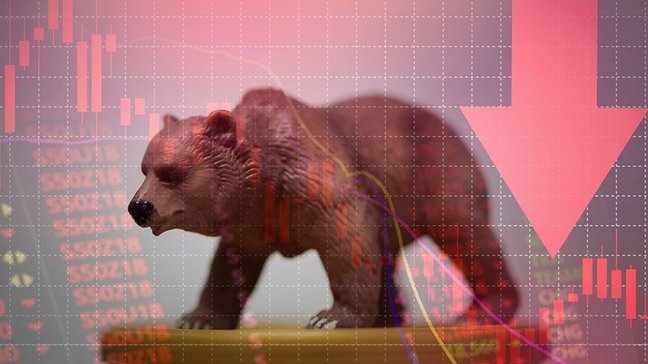 Luckily, there is a chance to not only overcome stumbling blocks bears crypto markets bring but also make some profit. In this article, we will discuss 4 major tips that will let you stay on the flow even when the crypto starts losing its price drastically.
Bear Crypto Market Meaning
If you are still out of the loop, a cryptocurrency bear market means a continuing asset price drop. It inevitably leads to a shed value of your portfolio. The market is generally associated with high supplies that exceed the demand. Hordes of "bears" do their best to offload assets that are no longer of any value, as they expect the price to drop even lower.
Crypto Winter Explained
A bear market in crypto is also known as the crypto winter. It usually depicts long-running bearish market conditions, which means a prolonged decrease in price. Sometimes, this period may last for several months making the digital asset price dip steadily throughout the entire period.
As a rule, investors face a steep price drop during the bears crypto winter. The last one took place between 2018 and 2020 featuring BTC shedding around 80% of its value if compared to historical highs. What's more, the latest price chilling season happened recently with a list of major coins losing about 90% of their value if compared to their ATH.
No matter how stable a coin performs, the possibility of entering a cryptocurrency bear market or crypto winter is always high, even if you tend to invest in the most popular and trusted assets.
7 Steps to Overcome Cryptocurrency Bear Market
Once you have spotted signs of the next crypto bear market looming on the horizon, you should take several steps that will help you avoid crucial losses. The simplest way to spot crypto winter is to track the BTC price. Once a bear market is taking place, it will have a direct impact on the Bitcoin value. In other words, you can use it as a bearish market indicator. At least, until other coins are just rallying behind.
Many experts agree that the only way to survive when it's chilly in the crypto niche is to sit and wait for as long as possible. Investors must have enough patience to steadily wait until the storm passes by. Besides, those who have no prior exposure should steer clear of trading during the bearish cycle.
So, here are some handy tips to maintain the bear market in crypto.
1. Stay Cool
It is very important to stay come during the crypto winter. Investors should try to assess their options. Of course, watching your assets drop drastically is very stressful. This is where the vast majority of beginners start making emotional decisions that often lead to failures. At the same time, most cryptocurrencies have already shown their ability to bounce back quite fast.
2. Avoid Timing the Bottom
Even the most experienced trader will never tell you when a cryptocurrency market is about to end. Besides, no one will ever be able to predict the asset price bottom. One can study endless charts and technical analysis tools and eventually see the trend moving against him or her by the end of the day.
Taking actions based only on your gut feeling is also a huge mistake. Do not try to define the bottom of the underlying asset at a given timeframe and buy it. The price can keep on dropping. So, you will have nothing to do but to sell the asset again at a lower price. This will definitely make your balance shrink.
3. Use DCA Strategy
A dollar-cost averaging is one of the most effective approaches even if the market reaches the most bearish conditions. The idea is quite simple. The strategy supposes a long-term concept where one needs to keep on purchasing a small number of coins within a given time frame despite the price movement.
4. Do not Short
As most of you know, shorting means making profit on the crypto price drop. Some may think the approach will work well in the cryptocurrency bear market, as here we can see a continuing price decrease. In reality, the strategy can lead to huge or even unlimited losses. What's more, going short can terminate your position.
Whatever happens during the bear crypto market, you need to try to stay calm and try to assess the current situation. What's more, experts recommend not to leave your assets on crypto exchanges, as the chances to lose your coins during extreme market turbulation are very high. Sit and wait until the coin will bounce back and remover that crypto winter will end sometime.
This material does not contain and should not be construed as containing investment advice, investment recommendations, an offer of or solicitation for any transactions in financial instruments. Before making any investment decisions, you should seek advice from independent financial advisors to ensure you understand the risks.