Modern Forex trading comes in many different forms. Beginners have different opportunities to enter the market without prior education or niche-specific skills. Most rookies do not even understand how markets work. Some of them ignore learning about the currency pair they are willing to trade.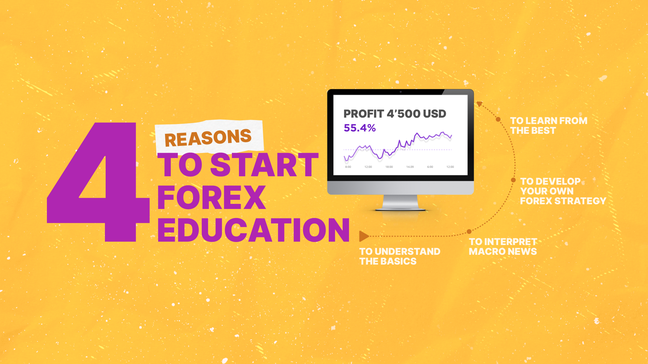 Jumping headfirst into the financial market without at least basic knowledge is a huge mistake. Forex education is the process one should never ignore, especially taking into account the endless selection of free courses, webinars, and other sources of information.
In this article, we will review major reasons to start Forex education and how it can help to build a successful trading career.
Forex Trading – Not a Get-Rich-Quick Scheme
The first and foremost mistake practically all beginners think is that Forex is the place where they can get rich quickly. In reality, your future profit will totally depend on how much effort you make. It works the same way as with other jobs. The more productive and passionate you are about what you are doing, the higher salary you can get.
A successful and wealthy Forex trader is not just "another guy from nowhere". He is an expert who managed to pass through massive volumes of data generated by Forex charts and technical indicators. What's more, a proven professional knows how to read and process all this data in seconds. He or she has the skills to analyze it and make well-thought decisions depending on specific market conditions that change all the time.
Constant practice is the only way to achieve this level of financial supremacy. The golden rule here is that the Forex market will not give you anything for nothing. It is all about hard work and education to develop specific skills and master the market of currency pairs, exchange rates, and quotes.
So, why should one get involved in Forex education?
1. To Understand the Basics
First of all, beginners should start with Forex basics. While trading, you will come across multiple terms and unique terminology you will never understand without prior education. An average person is not familiar with them.
On the other hand, ignoring those basics one can be left without crucial instrumental features necessary for every Forex trader. Some of them can be used to convey endless information in just a few terms.
Additionally, beginners should learn some baseline calculations to derive direct quotes from indirect ones. If you do not know these basics, you will never be able to trade successfully.
2. To Interpret Macro News
As you know, currency exchange rates are affected by various factors. Macro news is among them. They provide information related to countries' economies. It can be very important in the context of the currencies you trade.
Traders constantly track news and releases published by the government and central banks. They keep an eye on fiscal and monetary policies to know how the interest rate is going to change. Understanding how macro news works will let you find more profit opportunities as well as market entry or exit points.
3. To Develop Your Own Forex Strategy
On the one hand, beginners today can enter the market without even having their own Forex strategies, Advanced solutions like copy trading make it possible for newbies to mimic traders of more experienced investors and share profits.
However, at some point, it may not be enough especially if you are eager to develop your personal skills to become a self-confident and successful Forex trader. There is one thing you must keep in mind: there is no such methodology or approach that can guarantee success. If you look for the magic formula or a guaranteed success system, you will fail.
Instead, you need to develop a set of steps and methodologies of your own applying your personal trading experience. Of course, developing a Forex trading style from scratch is a tough challenge. Luckily, you can use other traders' experience and customize it in accordance with your investing style.
4. To Learn from the Best
Forex education can be different. Some people prefer learning on their own using online courses and materials available on the web. Others prefer a more active way. Today, beginners can visit numerous seminars and other educational events to communicate with industry experts or simply share their experiences with the same amateurs.
What's more, some platforms offer mentorship in the face of Introducing Brokers who will guide you through all steps from making your first deposit to the first successful trade. Such an approach comes with peer-to-peer support and guidance. You may also look for internships provided by top brokerage firms and financial companies.
The Bottom Line
Forex education is very important. It provides an understanding of how the FX market works. Traditional classroom courses can be very expensive. However, modern platforms offer different ways to pick up the necessary skills and financial basics.
The information can be provided via online webinars and courses. You can find plenty of free YouTube videos with the ways of using MT4 described in detail. The global web delivers endless sources of the necessary information. All you need is to find it and apply it to your particular Forex trading strategy.
This material does not contain and should not be construed as containing investment advice, investment recommendations, an offer of or solicitation for any transactions in financial instruments. Before making any investment decisions, you should seek advice from independent financial advisors to ensure you understand the risks.