More and more people go online to find instruments for stretching their savings. Some of them already have a big client base or community of online followers. If any of these applies to you, starting an introducing broker program will be a great idea. It offers various reward models letting Forex IBs choose the one that meets their needs and resources.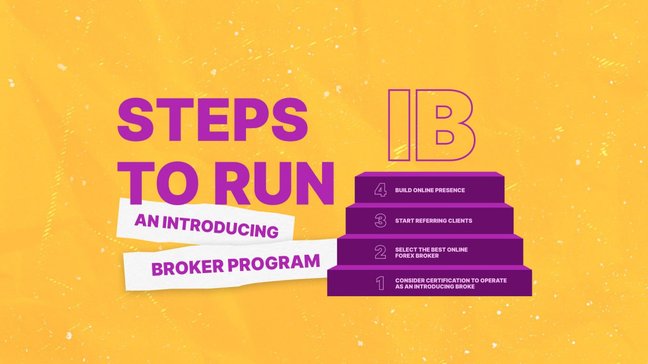 In this guide, we will reveal all the major steps to launch and run a Forex broker partnership program. You will learn how to get started and ways to grow the fanbase and referrals.
1. Consider Certification to Operate as an Introducing Broker
Anyone can become a Forex IB. The process is quite easy, especially if you are from the UN or Asia. These parts of the world do not consider having special certificates to join the Forex partnership program and gain rewards.
However, if an IB is a US, Australian, or South African resident, the certificate is a must. Otherwise, you will not be able to provide IB services. The good news is that this particular kind of certification is easy to get.
Even if you do not need one, having a certificate is still a good idea, as it will increase the level of trust from your potential referrals and clients. New traders want to be 100% sure a person they follow is reputable, acknowledgeable, and able to guide them from the registration step to closing their first successful order.
2. Select the Best Online Forex Broker
The second step is to select the best IB trading platform. In simpler words, you will need to find a trusted and reputable online Forex broker with the best trading conditions you can offer to your customers.
This is where one may need to do some paperwork. To find the nest-matching option, you should compare and contrast several IB trading service providers. Make a list of all pros and cons, compare rewards and commission types, trading instruments available for investors, spreads, leverage and other conditions that can be of major concern for IB's followers.
To choose a trusted platform to partner with, you need to keep in mind the following factors:
A broker must be regulated to deliver safe and risk-free trading.
It should have advanced trading software that meets the latest market standards.
The variety of financial instruments available for trading (stocks, currencies, commodities, CFDs, crypto, etc.).
Check if a chosen platform has a mobile-friendly version., It can be a crucial factor, as more and more users are moving online to close deals on the go.
New users will appreciate the availability of demo accounts or paper trading opportunities to try the platform in real-time with zero risk of losing cash. Consider it the first date.
Last but not least, a chosen broker must provide all necessary marketing assistance to grow your online presence as an IB, track stats, and promote your brand with advertising materials and other sources you may need to establish an online reputation.
3. Start Referring Clients
It is high time to find new customers and sign them up for the Forex IB program. You may start with building a new website or creating a social media page to attract new customers. Some IBs already have the necessary resources and a client base. You may start referring them to a chosen IB trading platform and gain commissions for that.
Being an IB is different from affiliate marketing. An introducing broker is not just someone to bring traffic and get paid. IBs act as mentors and guides. They provide assistance to all their clients for as long as they need it. If referrals leave, an IB will lose commissions.
So, you need to be aware of your target audience. What does your perfect client look like? Is he or she a day or swing trader? Do your followers prefer less risky options and opt for long-term investments? Make sure you know what they need and expect from their introducing broker and be ready to provide it.
The key to success is to stay with your clients during every stage of their trading path. IBs help clients to complete the registration process, select a strategy to apply, fine-tune and practice a selected methodology, open the first trade and gain the first-ever profit. As a Forex IB, you need to be very close to your customers all the time and it will eventually pay off.
4. Build Online Presence
Once you have defined your buyer persona, it is time to build your online presence and increase users' awareness. It is not just about creating a website and attracting users. You need to make your name speak for itself. Powerful positive returns will always matter. Make sure you regularly receive feedback from existing customers.
As a rule, top IB trading platforms offer everything you need to develop an online presence for partners. IBs will have access to a library with promo materials, banners, brand books and other instruments that can help them systematically grow their presence on the web. Eventually, your name will become noticeable on Google.
A good idea is to use as many sources as you can. Some can try podcasts or YouTube videos with introductions, guides, secret tips, and other insights that users will find handy. The key to success here is to provide real value in every piece of content you create.
A Few More Things for IBs to Consider
With these simple steps we mentioned earlier, you can grow your fan base and establish a well-known IB trading name online. However, there are a few more things to take into account.
First of all, no clients mean no success. A partnering platform will not pay commissions, if you do not bring customers. Having a few traders right from the start can make you feel relaxed. On the other hand, you should always find new ways of bringing more and more traders to create a steady network that generates passive income.
Never stop training your clients. It does not matter how active your traders are. One can close a couple of deals per week but he or she still requires attention or assistance. Every customer must be treated equally.
Last but not least is to select a matching reward model. Explore all commission types offered by the chosen broker and make sure they suit you fine. If all factors look satisfying, the chances of benefiting as an introducing broker are very high.
This material does not contain and should not be construed as containing investment advice, investment recommendations, an offer of or solicitation for any transactions in financial instruments. Before making any investment decisions, you should seek advice from independent financial advisors to ensure you understand the risks.