While the stock market can be very unpredictable, beginners can find a better and less risky alternative in the face of paper trading. Stock trading requires a solid background and learning ropes. At the same time, the majority of newbies are looking for a simpler and faster way to make money right away.
You should not expect paper trading to be the magic tool that lets you generate gains right at once. On the other hand, it is the best option for new market participants to get started and explore the market from the inside.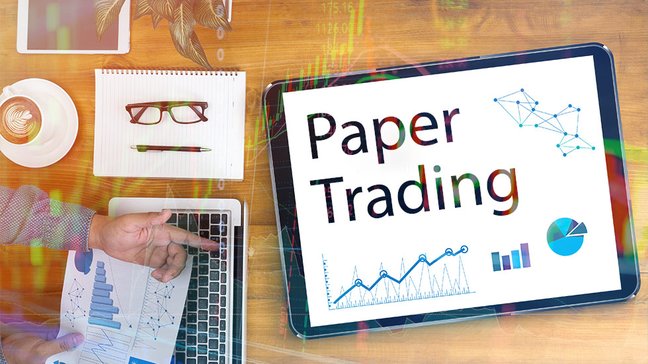 In this article, we will explain paper trading meaning as well as define its main advantages and downsides making it possible for you to decide whether to use the concept or not.
What Is Paper Trading and How Does It Work?
Oppositely to stock trading where investors find themselves under real market conditions, paper trading meaning considers acting in a virtual environment where you do not actually have to invest real money. Paper trading exists separately from the financial market. It means that all actions taken by paper traders will not influence the real situation with stocks or other instruments traded in real time.
In simpler words, we have a concept that simulates the trading environment. It replicates real-world asset value or even market/price movement. This fact makes it possible to apply real trading strategies and test them using real-market configurations. The main benefit here is that you can try out various approaches with zero risk of losing your funds.
Paper Trading Meaning
Here is an interesting fact. The term was initially introduced at the time of land-based trading when investors conducted orders physically rather than using online platforms. Traders used to sharpen their skills using paper notes with their ideas, strategies, and suggestions written on them. They performed manual analysis and price movement analytics within the underlying trading session.
Technologies have evolved. Written notes no longer make sense, as users can opt for any trading app or select the best paper trading platform with a bunch of integrated features and tools. Handwriting and manual analysis are no longer needed.
Paper Trading Advantages
Now that we have discussed the concept, it is high time we reviewed some of its main advantages. Paper trading can make sense for both experienced and beginner investors who want to develop new strategies or revise already applied approaches.
1. Reduced Risks
As you have already learned, the methodology considers using virtual money. This fact eliminates the risk of losing real cash. Users get a chance to try out various approaches including both bold and conservative trading depending on their personality.
2. Stress-Free Trading
While markets move unexpectedly, it is very hard for traders to keep their emotions aside, especially when trends move against them. Fear and greed can influence the market greatly. What's more, they always lead to failure. Paper trading is a chance to perform adequate and disciplined practice. In other words, beginners can learn to trade in a more self-confident and objective manner.
Paper Trading Disadvantages
Of course, the method will never guarantee 100% of success. Here are some major downsides traders need to consider.
1. Traders Take More than they Handle
While a paper trading app or platform considers using virtual money, beginners do not have the same level of responsibility. It can spoil them in some way. When entering a real market, they might feel they can take more than they are able to handle. It leads to greater risks and reckless moves.
2. No Extra Costs Involved
It may sound more like an advantage. However, with paper trading beginners do not account for extra costs. Real trading usually involves specific fees, commissions, taxes, and other charges established by a broker or paper trading platform. When added to your account, they can easily drag you down.
The Bottom Line
Paper trading has become increasingly popular over the years. What's more, more and more brokers offer access to their paper trading apps and platforms letting customers pick up essential skills and get ready before entering real financial markets. It is a great chance to work out a winning technique with essential tools that will define your further success. On the other hand, it is just virtual trading with no real assets to sell and buy, which also means no real profit.
This material does not contain and should not be construed as containing investment advice, investment recommendations, an offer of or solicitation for any transactions in financial instruments. Before making any investment decisions, you should seek advice from independent financial advisors to ensure you understand the risks.