When you are only about to start trading stocks, there are several crucial things you need to learn at the outset. Your investing journey should start with understanding how actually stocks are moving. This is where stock charts will come in handy.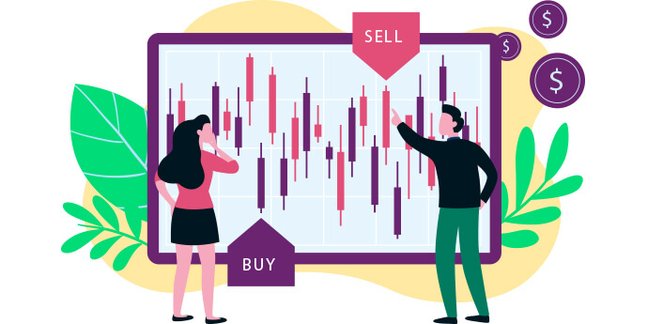 The main obstacle here is that most beginners do not know how to read stock charts, what aspects and parameters to consider, or how they work. That knowledge is the key to success, as reading charts makes trading simpler and easier to foresee.
This article is to make the process less confusing and daunting right from the start.
What Does It Mean to Read Stock Charts?
Also known as "stock quotes", charts make it possible for traders to clarify the stock performance under real market conditions. In other words, you can see what is actually happening with the asset as well as how it can be projected to perform in the nearest future.
Reading stock charts is impossible without knowing the basics. You are supposed to know not just how the market operates but also how to use various technical indicators. Besides, each stock comes with a separate quote page (chart). It can provide both basic asset info as well as detailed insights about the price movement, so on.
Stock Chart Elements to Consider
To understand how to read that information, you need to learn more about fundamental stock chart elements. They generally include:
Price and Volume.
Stock Charts with Moving Averages.
Relative Strength Lines.
Now, let's have a closer look at each element to clarify what it is important and how it may help to read the quote page.
Price and Volume
Each stock chart can be divided into two basic areas. They are price and volume, which is the amount of all shares traded on the market. The main idea is to observe both areas together but not separately. You will be able to understand the story behind a particular stock. If a trader looks only at the price area, he or she will never be able to understand how serious the asset selling or buying is, as the volume always matters.
On a screeshot from Demo account in web-version of MetaTrader4 you can see the price and volume areas. To be able to see the OBV in your chart, choose 'Insert' in the upper toolbar, then Indicators -> Volumes -> On Balance Volume.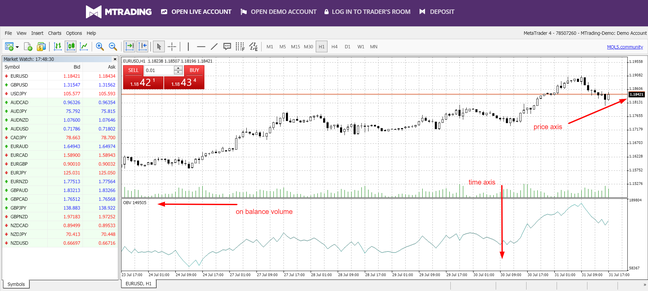 Example: if you watch a stock falling down by 2% a day, you might feel upset and nervous. But if you look at the volume area, which says "the stock is far below the average", it will make the tables turned. It means that bigger traders do not trade the asset aggressively and sit tight instead. Maybe, this is what you should do as well.
Stock Charts with Moving Averages
Quote pages with moving average lines make it possible to observe the stock price over a specific period. Besides, they are crucial for understanding in case you trade stocks that are generally supported but larger traders who tend to sell aggressively.
It works great for shares that are supported by traders or institutions with enormous buying power making it possible for them to push the stock lower or higher sharply.
On a screeshot from Demo account in web-version of MetaTrader4 you can see the moving average indicator. To be able to see the Moving Average in your chart, choose 'Insert' in the upper toolbar, then Indicators -> Trend -> Moving Average.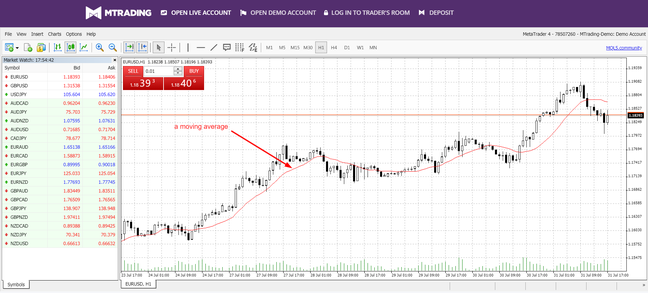 Once you have noticed the stock crashing below the specified benchmark, it generally means the asset is no longer in favor of big players. You'd better switch to another instrument.
Note: to avoid huge crashes, keep an eye on how the stock moves around the moving average lines.
Relative Strength Line
It provides a faster way to observe the stock market. Besides, it helps to identify if the share is laggard or leader. The RS line is used to compare the price performance as to the S&P 500.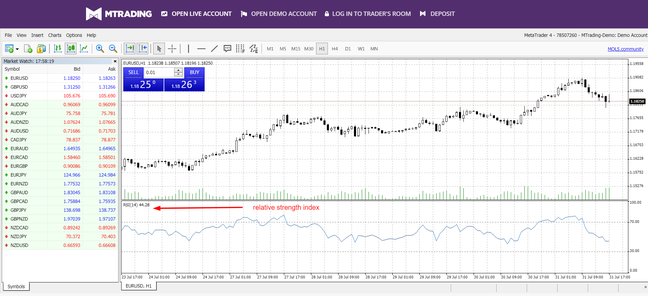 Example: if the relative strength line goes up too sharply, it means that the stock is about to outperform the market. A trending down RS line means that the asset is lagging.
Useful Tips to Read Stock Charts
Now, when you know all major stock chart elements, we would like to share some baseline tips on how to read the quote pages. You will generally have to use the above-mentioned elements.
1. Keep an Eye on Time Axes and Price
Each stock chart comes with two major axes. They are time and price axes. If you look at the horizontal or bottom axis, you will be able to observe the timeframe indicated for the stock chart. The period can vary from 1 day to a year. The side or a vertical axis depicts the stock price.
Using two of these axes will make it possible to plot the trend movement based on a specific period and stock price over that period.
2. Stay in Touch with the Trend Line
Nothing complex here. On the other hand, the trend line delivers vital information out of the box letting you learn about the stock as much as possible within the stock chart.
Traders should know that they can select different chart styles that come with different types of trend lines. It can be:
A traditional line;
A mountain bar;
A candlestick and so on.
The difficulty in reading the chart will depend on the line style as well. For example, traditional lines are simpler to read if compared to candlesticks. So, you'd better opt for the style that you are familiar with.
3. Specify the Volume
At this stage, you are supposed to identify the trading volume. It is the key factor to look for when reading stock charts. As a rule, you may find it at the bottom of the quote page (indicated in red or green bars).
Spikes are what we are looking for. They help to indicate the trend's strength as well as the potential trading volume movement (whether it is going up or down). However, if the price goes down but the volume is still high, it means that the trend still has downwards strength and the process can move vice versa in the nearest future.
4. Use Support and Resistance
Last but not least is to identify the lines of support and resistance. Trading stocks always comes with the asset falling within support and resistance lines. The support line represents price is very unlikely to drop beneath. In other words, you are protected from trading below that price.
The resistance line is the opposite indicator that shows the price level that is not good to trade stocks above. In other words, it ensures resistance for the stock trying to break through the top price.
By the way, we have got more info on Forex chart types in this article. Reading stock charts can be daunting at first but only without knowing the basics. If you understand some baseline indicators, you will find it easy to overview the price and trading volume. Besides, they may appear to be a powerful helper when establishing a winning trading strategy.
This material does not contain and should not be construed as containing investment advice, investment recommendations, an offer of or solicitation for any transactions in financial instruments. Before making any investment decisions, you should seek advice from independent financial advisors to ensure you understand the risks.