The Forex trading community has always been bothered by one question. Is it possible for the online Forex broker to manipulate the market? Many beginners fail and claim brokers stop them out causing enormous losses.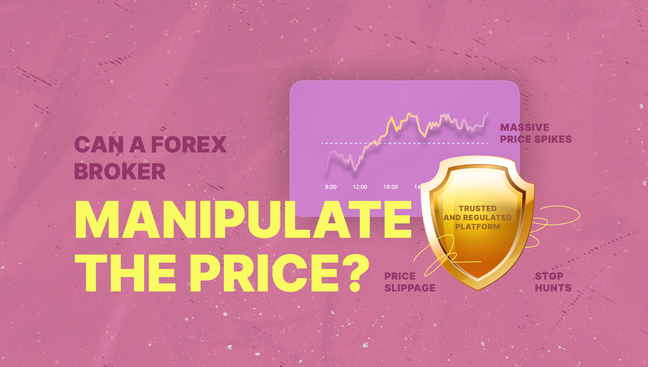 In reality, it all depends on the platform you choose. Major losses are mainly the result of lacking expertise and poor knowledge. Novice investors expect the market to deliver huge returns fast. The sad truth is that Forex trading is about learning and proper education. At the same time, some websites do manipulate the price.
In this article, we will explain how to define if a chosen Forex broker manipulates the pricing of a traded currency pair and how to avoid it.
Is It Possible for a Forex Broker to Manipulate the Market?
Yes, it is. Unfortunately, some platforms do manipulate the market. However, it does not mean you should lose hope right at once. The global web is full of trusted and reputable platforms that offer fair and regulated trading.
The practice of market manipulation is not common for the majority of brokers. It is mainly the issue of so-called B-book service providers. In simpler words, those are scam websites. We have already discussed how to avoid scam brokerage websites.
In modern days, online Forex trading has been brought to a new and safer level. Users can opt for licensed and regulated platforms feeling safe. Nevertheless, it does not prevent around 80-90% of all beginners from losing their capital. However, it is a matter of lacking experience and ignoring Forex education as the foundation for future success.
The Signs of an Online Forex Broker Manipulating the Price
The Forex market is extremely volatile. It delivers high liquidity, which sometimes makes it hard to detect price manipulation. Luckily, traders can use several simple tell-tale signs of the case.
1. Price Slippage
Slippage is the first sign of a Forex broker trying to manipulate the currency pair price. Otherwise, a broker has the most terrible trading conditions. Slippage expresses a huge difference between the entry and exit asset prices.
Some investors may not even notice it, especially when following long-term Forex strategies. Swing traders are also not quite affected by slippage. On the other hand, it can be ruthless for scalpers and Forex day traders, as they rely on literally every pip. So, when you pay around $5 per lot to the broker, it can eventually cost you a fortune in the long-term perspective.
2. Stop Hunts
Stop hunting is one of the most popular and widely-spread methods of manipulating the price by dodgy Forex brokers. Users should clearly understand that brokers can see all their stop-losses placed per trade. Besides, they can easily define how much you can lose.
When the concentration of stop-losses booked in the same area exceeds, scam brokers can make a false price touch right in that particular area. In the end, it will take profits on all traders' losses at a time.
The main challenge here is that stop hunting is quite hard to identify, especially taking into account extreme liquidity of the Forex market. The best way to avoid it is to select a trusted online Forex broker that guarantees risk-free trading with the industry's best conditions. Users can compare current pricing with the asset prices in the MT4 platform to make sure it was not the platform to stop hunting your trades.
3. Massive Price Spikes
Another method to manipulate the pricing of the currency pair is to apply massive price spikes. It is the way brokers try to stop out traders from their positions. Rapid price spikes trigger stop-loss orders even if the market is not planning to move that way.
The approach is commonly used by scam platforms on volatile markets including not only Forex but also VFD, crypto, and more.
How to Avoid Brokers that Manipulate the Price?
Unfortunately, it is impossible to stay safe with a Forex broker that manipulates the price. The only way to avoid this is to select a trusted and regulated platform.
Additionally, we want to share several crucial traits that will make it possible for traders to make sure they are with a worthy online Forex broker:
A platform must be regulated. It should also follow multiple jurisdictions.
A Forex broker must offer support via different channels for instant contact.
Real-based offices and sites.
All transactions must be processed in FIAT currency.
Reputation on the web always matters.
A variety of trading platforms or MT4 modifications and plugins to use.
Suitable trading conditions for different Forex strategies to apply.
These are the attributes of a trusted Forex broker that is safe to select.
The Bottom Line
It is true that some scam brokers try to stop out traders and manipulate the currency pair price. What's more, it is a common practice among unregulated platforms. Dodgy websites are sometimes hard to detect. However, a set of tell-tale signs will let one easily detect price manipulation or scam.
Staying safe is the sole priority of each individual trader. You are responsible for choosing a worthy website to trade with, as you are the only one responsible for your capital safety. So, join MTrading to benefit from risk-free cross-market trading opportunities with the industry's best conditions and hundreds of instruments.
This material does not contain and should not be construed as containing investment advice, investment recommendations, an offer of or solicitation for any transactions in financial instruments. Before making any investment decisions, you should seek advice from independent financial advisors to ensure you understand the risks.