Copy trading is a form of an online investment approach that lets beginners and professionals copy trades of more experienced and well-established market players. It can be applied across various markets and instruments. One can copy trade Forex or follow IBs when investing in stocks, commodities, metals, crypto, and many other assets.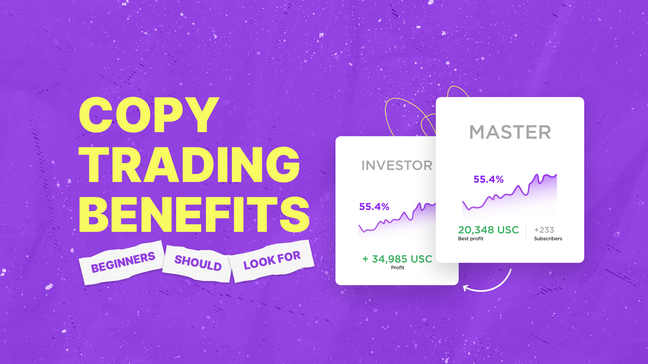 However, is copy trade enough to grow wealth? In this article, we will discuss the major benefits of copy trading as well as additional factors you need to consider. They will help you take your trading experience to a new level.
Reasons to Start Copy Trading
The idea behind each copy trade platform is to deliver a user-friendly experience to those who are new to the market. Besides, experienced traders can use it to keep their portfolios diversified. They can execute trades on autopilot while focusing on other markets.
As for the main benefits delivered by advanced Forex copy trade solutions, they include the following:
Beginners get a chance to learn from industry experts also known as Introducing Brokers (IBs). All they have to do is to mimic the expert's steps to share the profit.
Copy trading comes with a great deal of transparency. Users can track IBs' stats and results. They know exactly who they are following. Besides, most platforms provided a detailed track record with the leaderboard to make it simpler for amateurs to select an expert to mimic.
With copy trade solutions, one gets an opportunity to diversify an investment portfolio. The approach provides a cross-market experience. It is possible to invest in different instruments from currency pairs and crypto to indices, commodities, and stocks.
Major copy trade platforms are developed with beginners in mind. They are very user-friendly, which means zero learning curve. Besides, you get full assistance and support from your IB as a part of the copy trading solutio
It may sound too good to be true. Of course, copy trading does not guarantee 100% of success. Users will have to think of some extra tools to use as a perfect combination to maximize potential profit. However, the first step is to select the solution that will meet your expectations.
Features to Look for in Copy Trading
To make your copy trade experience as successful as possible, you need to be 100% sure a chosen solution meets your requirements. The following baseline features must be available for users.
Ease of Use
The platform should be easy-to-use and intuitive. Generally, copy trading is the beginners' choice to get started. It should take them minimum effort to complete registration, configure the strategy, select an IB to follow, and so on. If the platform is too complicated, you can always find a simpler alternative.
Assets to Trade
As stated earlier, copy trade can be applied across various markets and instruments. However, some brokers offer a limited selection of assets within their copy trading offer. Financial markets are emerging. They deliver many new assets to trade. So, you will hardly like to miss that opportunity.
Reputation on the Web
A proven broker will probably have a large network of copy traders who can share their experience with the platform. The more users are signed in to the broker, the safer copy trade solution can be used.
Generally, well-known platforms offer a package of services. It involves not only copy trading as a single solution but also a set of extra features used to fine-tune or backtest the strategy, set stop-loss and take-profit orders, and customize a chosen method in accordance with your needs.
In simpler words, copy trading is not just to follow an expert robotically but also to learn, test, experiment, and take your trading experience to a new level.
Mobile-Friendly Trading
More and more traders go mobile to buy and sell assets on the go. A chosen platform must deliver a seamless mobile copy trade experience with no limitations when it comes to trading instruments. Additionally, it is a great chance to engage with the market on the move instead of missing potentially profitable opportunities.
Simply Copy Trading Is Not Enough
If you are lucky to find a perfect copy trading solution that totally meets your needs, it does not guarantee 100% success. Financial markets always change. You need to adapt to different conditions and customize your strategies accordingly.
The following are obligatory for every Forex trader:
Know what you copy. You need to know exactly what asset you are going to trade. If you choose to copy trade Forex, make sure you know as much about different currency pairs and the way they move on the market as possible.
Apply technical analysis. At some point, you might want to understand how the price moves. Technical analysis delivers the full picture of price action and trends. A good idea is to learn how to read different chart patterns.
Stay cool. Being patient is the key to success. One should never expect fast profits at no time. Success will take some time and nerves.
The Bottom Line
Copy trading is a good alternative to traditional Forex strategies. It perfectly suits beginners with no prior knowledge or skills to act in the FX market. The solution delivers plenty of benefits for those who want to start without preparation and the possibility of losing everything right at once.
However, simply following an introducing broker might not be enough. You still need to broaden your knowledge and learn as much about the market and assets you trade as possible.
With MTrading, beginners can take their copy trade experience to the next level with a selection of advanced instruments, enhanced mobile trading experience, cross-market availability, and improved user-friendliness.
This material does not contain and should not be construed as containing investment advice, investment recommendations, an offer of or solicitation for any transactions in financial instruments. Before making any investment decisions, you should seek advice from independent financial advisors to ensure you understand the risks.