Copy trading crypto is growing in popularity together with BTC jumping to its highest high of all times reaching $64,000. This fact makes beginners and novice traders more and more attracted by the asset. They are eager to participate in the cryptocurrency trading rush. They expect to get easy profit but do not have at least a baseline understanding of the crypto market.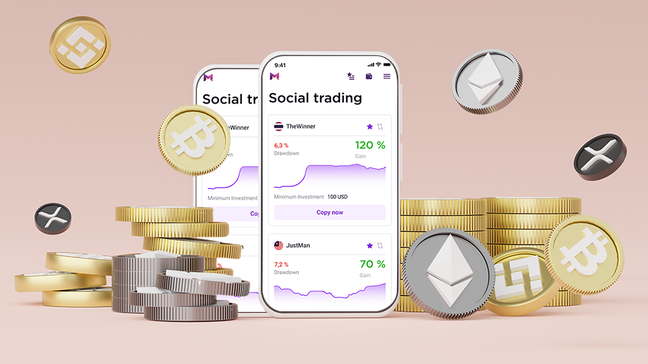 This is where crypto copy trading can do the trick. The concept has already turned into some kind of a social layer between professional traders and those who only seek the opportunity to enter the market. Following novice users' demands, advanced and emerging brokers develop new technological products known as copy trading platforms. Let's see, if they are worth it when it comes to replicating cryptocurrency deals.
How Are Copy Crypto Traders
The list of top cryptocurrencies to invest in is exploding with new options. More and more users of all levels are eager to grab their piece of the pie. However, a few do realize how hard the challenge can be. On the other hand, with modern technologies in mind, one does not need to be a financial expert. This is mainly thanks to the concept of copy trading crypto, where a novice user can replicate traders of a more experienced professional.
The approach can be applied to different instruments and cryptocurrency is not an exception. On the one hand, you can maintain full control over the strategy and account. On the other hand, you can perform automated trades.
For example: a trader buys 2 BTC at a specific time frame when the price is low. Then, the IB sells the asset at a higher price to generate a profit. As a copy investor, you will do the same and make the same profit.
The Impact of Copy Trading Crypto
The main idea of copy trade cryptocurrency is to avoid too much noise. Besides, increased volatility creates greater risks for beginners. People tend to hype and hat coins. These factors create unexpected market moves. On the other hand, copy crypto traders have full access to all major insights with a chance to widen their knowledge in real-time.
Through advanced platforms, users have a chance to engage with lower risks. They can make the use of others' experience, their trials and efforts as well as already working strategies. It all results in a cost-effective approach with no need to invest in education and practice.
Copy Trading Crypto Participants
Two major forces are presented in the crypto market:
Seasoned traders. They are also known as signal providers or Introducing Brokers. Their mission is to perform trades on a daily basis using time-tested and reliable strategies.
Community members. They are copy investors who mimic the trades of more experienced users. They can access the platform through a valid trading account. Additionally, they can overview IBs ranks, stats, and other insights to decide if a chosen crypto copy trader is a good one to follow.
Is Crypto Copy Trading Worth It?
The success of crypto copy trading totally depends on the IB you follow. So, the idea is to look for an expert with a lower-risk profile and persuasive track record of successful deals. On the other hand, trading on your own is more likely to bring you to failure, as 90% of all beginners lose their money right at once. Copy trading modality was designed to prevent those losses and keep more beginners involved in successful trading with no prior skills.
This material does not contain and should not be construed as containing investment advice, investment recommendations, an offer of or solicitation for any transactions in financial instruments. Before making any investment decisions, you should seek advice from independent financial advisors to ensure you understand the risks.