A piercing candlestick pattern belongs to the group of bullish reversal patterns. It takes place when the underlying asset is in a downtrend. Some traders closely resemble it to an engulfing pattern – another pattern from the bullish category. It is also plotted with two candlesticks though the two patterns are not the same.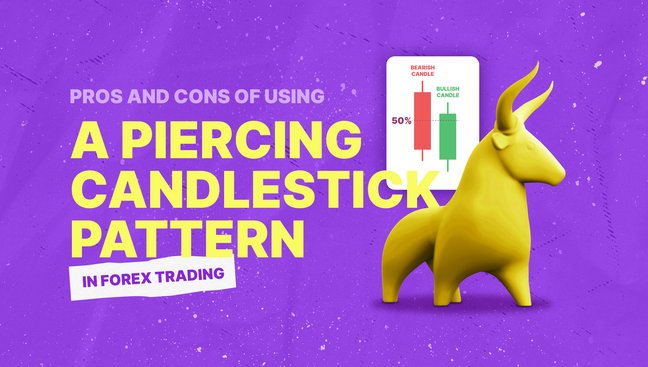 In this article, we will discuss the pros and cons of using a piercing candlestick pattern in Forex trading. It might be a great expansion for your Forex day trading strategies.
A Piercing Candlestick Pattern Explained
S stated earlier, the pattern appears when the underlying asset is in a downtrend. A falling price creates a long bearish candle followed by a smaller one that usually closes above 50% of the preceding bearish candlestick.
When we say 50%, we mean a common level. It does not mean the exact estimation. In simpler words, Forex traders generally determine it visually when deciding on whether to go long or short on the asset.
Steps to Identify a Piercing Candlestick Pattern
The good thing about the pattern is that it is relatively easy to identify. Beginners will find it easy to recognize the pattern on a chart.
The first thing you need to do is to ensure the market is currently in the downtrend as well as the instrument you currently trade. If not, the pattern you will see is not a piercing candlestick.
Secondly, you will see a bearish candle plotted on the left. It generally comes with a large body and smaller lower and upper shadows. Keep an eye on the candlestick length and make sure it is a bit long.
Thirdly, you need to detect a bullish pattern that follows the previous bearish one. A bullish pattern is supposed to close around half of the bigger pattern. Besides, it should have a small gap. There are no specific or exact measurements for that. Forex traders will need to identify it visually.
Here are the main piercing candlestick pattern characteristics:
It always appears at the bottom of the downtrend.
It must always include both a bullish and bearish candle.
A bullish candle must open lower than a bearish candle close.
A bullish candle must visually close about half of the bearish candle.
Now, let's see what it means for traders.
What Does a Piercing Candlestick Pattern Tell Forex Traders?
A pattern can be used as an indicator that usually tells several important things. First of all, it is associated with a bearish trend that keeps losing steam as a result of the price losing above the bearish candle.
What's more, the pattern is a sign of a new bullish trend ready to start. However, false breakouts may also take place. It means a bearish trend may continue for some time. Whatever it is, you will always know which trend to follow and decide on the next trade.
How to Trade a Piercing Candlestick Pattern
The pattern can be traded with several Forex strategies. The first and the most obvious one is to enter with a bullish trade slightly above a bullish candlestick. This is where you may want to place a buy-stop trade as a part of your risk-management practice. It will prevent you from losing in case of a bullish breakout.
The second method considers placing a stop-loss trade at the lower side of the pattern. If the piercing candlestick fails, the downtrend will continue and at the same time trigger the stop-loss trade.
In simpler words, we apply different types of pending orders letting different market conditions work for us and initiate appropriate trades.
Of course, it is possible to combine the pattern with other technical indicators. For instance, traders can create an award-winning combination with RSI or the Stochastic Oscillator. When they show the oversold market featuring a piercing pattern formation, it can be associated with a new bullish trend that is about to start.
Pros and Limitations of Using a Piercing Candlestick Pattern
Like any other pattern, a piercing candlestick comes with specific limitations though it really delivers some crucial benefits, especially for beginner Forex traders.
Pros:
Frequently occurs and is easy to identify.
Offers more chances of favorable risk-reward ratios.
Can be combined with other technical indicators.
Limitations:
It can only signalize a bullish pattern.
It cannot be used solely and requires the use of other indicators.
Generally, it is a good tool to use for your Forex day trading approach.
Is A Piercing Candlestick Pattern Reliable Enough?
As we already stated in the list of pattern limitations, it is a signal for the bullish reversal only. Moreover, experts do not recommend using it as a stand-alone indicator. Besides, further support signals cannot be used in concurrence with the pattern.
It means that trading against the trend using a piercing candlestick is extremely risky. Traders will have to use more additional signal confirmations. On the other hand, it is possible to trade with pending orders to quickly adapt to changing conditions.
This material does not contain and should not be construed as containing investment advice, investment recommendations, an offer of or solicitation for any transactions in financial instruments. Before making any investment decisions, you should seek advice from independent financial advisors to ensure you understand the risks.