A proper mindset is an important factor in developing a successful trading strategy. What's more, it is a primary requirement for beginners, who only start making their first steps in the financial market. In simpler words, it is impossible to achieve great results without having a proper mindset.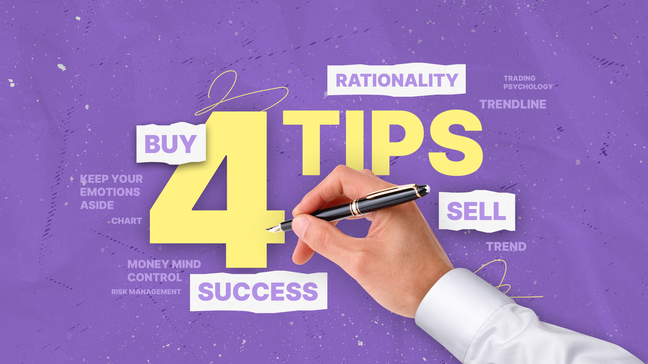 Trading psychology is crucial. It defines the main difference between a professional investor and an amateur trader. You may have the best trading conditions, strategies, or the most reliable online broker. However, they will make no sense without a successful mindset.
In this article, we will discuss 4 crucial mental tips that will let you bring your trading approach to the next level.
Mental Hacks to Improve Your Trading Strategies
Beginners can find lots of baseline tips on how to handle each trade mentally. As a rule, they refer to baseline recommendations like "keep your emotions aside", and "stay cool even when the situation gets out of hand". None of these bring practical value. So, we have decided to conduct a list of 4 really helpful mental tips that really work when establishing a successful trading technique.
Tip 1 – Avoid Getting Attached to a Trading Position
This is the first thing that makes a professional trader different from an amateur investor. The main idea is not to be attached to the current trading position. To gain success, one should learn how to detach from live trades.
The secret tip here is to feel literally nothing after you have entered the market with either a short or long position. Once an investor has taken entry, there is nothing he or she can do about it. So, the only reasonable solution here is to let it go.
With this particular mental tip, professional traders make it possible to automatically avoid emotion-driven mistakes. To succeed with this particular trading mental tip, you need to keep in mind the following:
Do not look up PnL reports after entering a trade. The best idea is to simply close the MT4 window after placing an order and stop loss. All you can do is use charts to track the price action just to broaden your experience and understanding of how the market moves.
Do not try to guess when placing a stop-loss. Watching your PnL without having a good reason will make no sense. Second-guessing might be a bad thing from two perspectives. The first one is when the price moves in your favor. Excitement can prevent you from keeping the winning trade. Oppositely, when the price moves against you, traders will start feeling uncomfortable.
Tip 2 – Consider Trading as Business
If you are really eager to improve your strategies, you need to start considering trading as a business. It does not mean you need to become a full-time investor and give up your current job.
On the other hand, you need to take trading seriously, as you will compete with thousands of investors with sharp minds and well-established techniques. There is no place for mistakes. Success is impossible without proper knowledge and equipment. From a mental point of view, the only way to beat your competitors is to trade more consistently with more discipline.
Consider investing as the ultimate psychological workout or sports competition. You take the challenge from better participants in the face of hedge funds, institutional investors, ace investors brokers.
Tip 3 – Conduct a Trading Plan
Ignoring this stage is a common mistake for the majority of beginners. It leads to failure. Looking at charts and placing trades accordingly is not enough. You must have a clear plan and stick to it. When you enter the market without a plan, you gamble. Trading systems, risk management strategies, money management, and trading psychology –are only a few crucial aspects a trading plan must contain.
trading can be compared to any other life or social skill. To master it, one has to learn and practice as much as possible. education is vital. Here are some secret mental tips that will let you make this work:
Consider each trade as a real deal between you and another person sitting right in front of you in a room.
Develop chart reading skills. They will help you to read other market participants' behavior. You might learn to understand how other people think under specific conditions.
Work out a plan for the early stage of the trading experience. Stay focused on side factors rather than on trading by yourself.
Tip 4 – Get Rid of Money Mind Control
Whatever happens, traders should never let money keep control of their minds. Cash has the power to affect every person mentally. The main trick here is that it happens regardless of one losing or winning. Those who manage to solve this problem will eventually fix their trading approach.
Here are the key points you need to take into account in reference to money mind control:
The fear of losing. This factor makes beginners turn even small mistakes into bigger losses. Sometimes, traders are so afraid of losing they cannot even place a trade (even if it promises some good returns). Investors face a psychological wall that prevents them from potentially high gains.
A lack of money management. Some traders do not have proper capital management tools. They risk too much per trader and often more than they can afford. If you really want to improve your strategies, you should never ignore money management issues. They must be included in your trading plan as well as risk management techniques.
To keep your capital under control you need to pre-define potential risks, pre-plan, and get yourself ready for losing. Every trader fails at some point. It is a natural part of the process and you need to learn to accept it.
The Bottom Line
The best way to bring your strategies to a new level is to trade with consistency and discipline. The longer you can stick to this approach, the more successful you can become. Besides, those who can stay well-organized for over a year will eventually get used to this mindset. They will no longer have to fine-tune their mental configurations.
This is actually one of the main factors that form the foundation of all great traders and entrepreneurs. Handling pressure and the desire to chase the loss is the key to success along with the ability to stay disciplined for as long as one can.
This material does not contain and should not be construed as containing investment advice, investment recommendations, an offer of or solicitation for any transactions in financial instruments. Before making any investment decisions, you should seek advice from independent financial advisors to ensure you understand the risks.