With dozens of potentially profitable coins emerging in the market, more and more investors wonder how to trade Dogecoin. They look for better alternatives to such big names as BTC or ETH to ensure lower trading volume and higher Dogecoin trading price.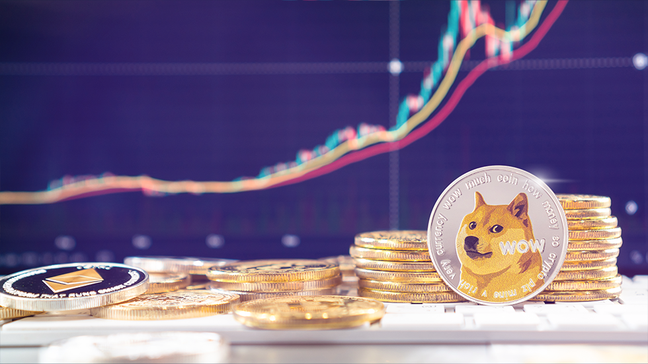 The coin made a strong rally back in 2021 during the pandemic. It hit the list of 10 top cryptocurrencies to invest in 2022. However, while the asset is still quite new for the majority of traders, both newbies and professionals do not yet have a clear understanding of how to trade Dogecoin.
In this article, we will share some crucial things you need to know and have before entering the crypto market.
How to Trade Dogecoin for USD
If you are interested in how to trade Dogecoin you will be surprised how easy the process is, especially if you are not new to the financial market. If you have ever traded any other crypto, you will find the process absolutely similar.
To trade Dogecoin for USD or any other currency, you will need some of the following:
Open a valid crypto wallet that is compatible with Dogecoin.
Select a Dogecoin trading platform to perform cryptocurrency selling and purchasing orders.
Open an account to complete the first Dogecoin transaction.
Now, let's have a closer look at each of these 3 points.
Select a Wallet for Dogecoin Trading
The first thing you will need is a wallet for Dogecoin trading. If you are not new to crypto trading, you probably have a wallet. It might be suitable for Dogecoin as well. Just make sure it supports DOGE. If not, you will need to create a new one. Without this kind of wallet, you will not be able to complete transactions. So, it is the baseline stage.
Generally, users may choose from two major types of crypto wallets. They include:
Software wallets. As a rule, they are free and more convenient for those who perform multiple transactions within a given time frame. So, traders will generally choose this type of wallet.
Hardware wallets. They tend to be more secure but require an initial investment in hardware. Besides, they do not provide such flexibility as software wallets which makes them a good option for storing coins rather than trading.
Coin owners can even opt for paper wallets. It does not actually matter what kind of platform you will choose. Each wallet follows the same principles, which is to generate a unique key to confirm transactions and keep coins safe.
Choosing a Dogecoin Trading Platform
The next stage is to select a Dogecoin trading platform or a broker. Despite the coin's popularity, a few companies provide this asset as an instrument for exchange. Luckily, you can find DOGE among trading instruments on some leading platforms including MTrading. If you still cannot make up your mind on where to trade Dogecoin, consider the following parameters to sort out reliable Dogecoin trading platforms:
Do Your Own Research. Taking into account others' opinions and experiences is good. However, you should always rely on your own experience. Make a list of all platforms that meet your needs. Compare and contrast their hits and misses. Select the one that totally suits you in terms of wagering requirements, fees, leverage, spreads, and other crucial aspects.
AML and KYC. These two terms define the regulation a chosen Dogecoin trading platform follows. As a rule, it means specific requirements to the process of a user's identity verification. Not all traders are satisfied with such an approach. Nevertheless, a platform that compiles with either the Know Your Customer (KYC) or Anti-Money Laundering (AML) modality is the sign of a reputable and responsible service provider.
Reputation on the Web. A crucial parameter that defines the overall level of users' satisfaction and loyalty towards a DOGE trading platform. Do not rush to open an account with the first broker you come across. Once again, do the research and find as much information about the company as possible. The more information is provided (CEO, foundation data, contact information) the better.
Dogecoin Trading Price and Fees
The Dogecoin trading price can vary from one broker to another. The same thing applies to fees and commissions. On the other hand, most platforms charge a fixed percentage from each order you place. The good news is that high-volume traders can benefit from lower commissions as part of individually-tailored loyalty programs and promotions.
Dogecoin Trading Volume
This parameter defines the number of users trading the same asset on the same platform. This factor may play a crucial role, as trading volume may have a direct impact on the price and the ability to identify the best market entry and exit positions.
Now, all that is left is to open an account and perform the first trade. Dogecoin comes with great investment and trading potential. Just make sure you have a crypto wallet with support for DOGE and a trusted Dogecoin trading platform by your side.
This material does not contain and should not be construed as containing investment advice, investment recommendations, an offer of or solicitation for any transactions in financial instruments. Before making any investment decisions, you should seek advice from independent financial advisors to ensure you understand the risks.