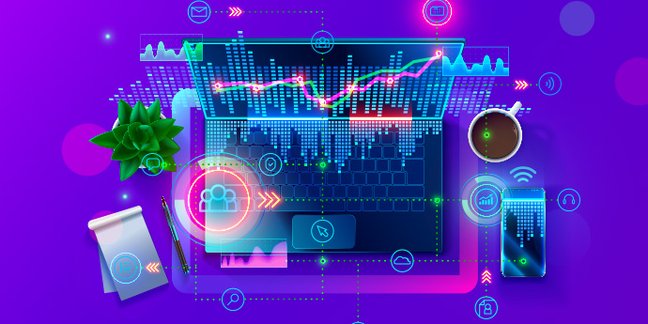 This article will provide beginner traders with a clear and concise understanding of what baсktesting software is, why you need it, and which backtesting softwares you should look out for in 2021.
What is Backtesting Software?
Key takeaways
Backtesting software is a free program that you can use to test trading strategies
It works by using historical trading data
Backtesting software is a free program that enables professional traders to test their trading strategies. The program uses historical trading data in order to establish how these strategies would work against previous trading scenarios.
Trading backtesting software essentially recreates trading outcomes and then examines how the strategy being tested would have an impact on it. 
In theory, this information can then be used to determine whether or not a trading strategy is likely to be effective in the live markets. 
The process of backtesting trading strategies assumes that if trading strategies worked on certain trades in the past, they will likely perform the same way in the future.
The Best Backtesting Softwares For 2021
MetaTrader 4
Simulator: Replay trading scenarios, free of charge
Supreme Edition plugin: free plugin that boosts your trading and testing capabilities
Tester: test automated and manual trading strategies
With the MetaTrader 4 platform, traders can take advantage of the 'Simulator', a handy tool that enables traders to reverse time on their charts and essentially replay the events that occurred within the financial markets on a specified date. Moreover, this tool is completely free to use!
What's more, traders can also easily adjust how fast the simulation plays out, thereby saving them crucial time, and also allowing them to focus their attention on the key time-frames that will enable them to assess where their trading strategies were most effective. 
There is also the option to boost the performance and capabilities of the MetaTrader 4 platform itself with the addition of the Supreme Edition plugin. 
This plugin enables traders to receive free access to technical analysis data (provided by Trading Central), as well as real-time trading information and news releases, trading expertise from expert trading professionals, worldwide opinion widgets (for trading sentiment), plus so much more!
Traders can also make use of the 'Tester' feature, which can test both automated and manual trading strategies. The software even comes with pre-made trading strategies that users can test, as well as 10 manual programs, 5 expert advisors, and over 16 years worth of historical trading information and data that can be used.
Traders should note that this particular feature is not free, but it's a little price to pay when you consider the range of different benefits this additional software comes with.
Read the detailed instruction about backtesting on MT4 here.
TradingView
Browser-based software: use it anywhere
Unique social media platform: talk to and collaborate with traders just like you
Bar Replay Feature: replay trading sessions
This particular backtesting software is renowned for its superior charting tools. The program uses real-time trading information, as well as browser-based charts, which enable traders to work remotely from anywhere, without the need to install anything on their computers, nor go through any long winded set up processes.
Moreover, the program also includes a social media platform for traders to communicate with other traders. This provides a range of capabilities, such as sharing trading strategies, collaboration opportunities, and much more. 
It's probably one of the best options for beginner and intermediate traders, since they can all congregate in the same location and learn from each other on a continual basis.
Additionally, the most revered tool on this particular platform is probably the 'Bar Replay Feature', a highly useful tool that provides professional traders with a clear breakdown of how the charts looked throughout a particular trading session of the day, prior to the application of a trading strategy.
Deltix-QuantOffice
More technically focused software
Rapid Visual Analysis: perform actions in seconds
simulator: test out your strategies against real trading conditions
QuantOffice has a myriad of different, and useful functions for professional traders who are aiming to get into the more technical side of trading strategies, and then really gain every advantage that they can secure.
It includes excellent tools such as the Rapid Visual Analysis function, which has fantastic charting capabilities, can be used with any trading instrument or portfolio level, and can test years worth of tick-data in just a few seconds.
The software also contains its own trading simulator, which enables traders to test and control trade assumptions, as well as simulate trading conditions, thereby really putting the trading strategies to the ultimate test.
QuantDEVELOPER
High-end backtesting software
500,000 ticks per second
Range of technical indicators
This high-end backtesting software enables traders to take things one step further, with a system that allows you to continuously evaluate options and make necessary adjustments as you go.
This particular software has a key focus on improving and determining the efficiency of trading strategies, and the program also provides statistical comparisons between trading strategies based on their results in the testing phase.
Elsewhere, the program has the ability to test over 500,000+ ticks per second, a huge and varied selection of technical indicators for traders to take advantage of, several different timeframes to use, an auto-execute feature, and much more.
Profit Finder - NinjaTrader
Excellent metrics for measuring trading strategy effectiveness
Use with any strategy, instrument, indicator etc
As the name suggests, there is one main goal in mind with this particular backtesting software - locating profit!
More specifically, the program seeks to identify any 'profit or loss attributes' within a trading strategy, and it uses these metrics to determine whether or not a trading strategy is effective or not.
In addition, the program is usable on any type of trading instrument, technical indicator, and with any trading strategy, it can calculate equations in mere seconds, it can work out the profit and loss levels for any position you have, and so much more.
Trading With MTrading
Now that you understand what backtesting is, why backtesting software is useful for examining the effectiveness of trading strategies, and which backtesting softwares you should look out for in 2021, you will likely be thinking about your next steps.
With MTrading, you can gain free access to the elite MetaTrader 4 trading platform. With this platform, you can test all sorts of trading strategies, as well as gain access to enhanced plugins, free technical analysis, real-time trading news, and so much more!
In addition, you can get started with trading right now by setting up a free demo trading account with MTrading. This enables you to test out your strategies in a virtual trading environment, using virtual funds, but with real market information and data at your disposal.
This means that you can simulate the trading experience and hone your skills until you are ready to make the transition to a live trading account. The control is completely in your hands!