Investing in bear market is not as easy as trading on the markets that are going up. However, it does not mean you cannot make a good profit when the rice keeps declining. The key challenge here is to find what to invest in a bear market, as there are going to be a few options with solid companies able to stay on the flow.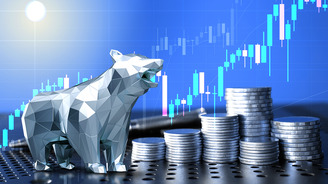 Additionally, the market rally cannot last for good. Bullish conditions will be inevitably replaced by bearish. The period may last up to several years and it does not mean you are supposed to stay out of profit during a bearish period.
In this article, we will define how to invest in a bearish market and what strategies can bring success.
How to Invest in a Bearish Market – Major Strategies Reviewed
A trading strategy is the first thing that defines success despite the market conditions. You need to be absolutely sure a chosen modality works. So, it definitely requires proper backtesting before the implementation.
At the same time, when defining where to invest in a bearish market, the option of techniques is not as wide. Here are some most popular strategies that can be applied to market conditions with the asset price continuously declining.
1. Investing in a Bearish Market: Pound-Cost Averaging Strategy
The strategy is quite simple and easy to utilize even for beginners. The main idea relies on periodical purchases of shares over a predefined time frame. The only issue here is that investors need to keep an eye on the price movement all the time. If it goes up, you are supposed to purchase fewer shares but still enter the market with a long position. Oppositely, if the price drops, it is a chance to purchase more shares.
As a rule, this strategy works better with mutual (open-ended) funds, as they are available for purchase in the form of so-called fractional shares. When the majority of traders try to go short, new purchasing opportunities appear. Besides, it is a great chance to purchase assets with a huge discount.
With the pound-cost averaging strategy, it is possible to minimize overall share costs and purchase more of them within a specific schedule. The strategy makes it possible to invest in fundamentals at a lower cost. It is a great chance to find some really good stocks that are currently underpriced because of bearish market conditions.
2. Investing in Bear Market: Income Investing Strategy
If you are not in the mood for searching for good stocks with discounts while the market keeps declining, you can try an income investing strategy. It mainly relies on income-producing instruments that can help you improve the cash flow.
Traditionally, investors opt for time-tested and proven assets that include saving bonds, CDs, or treasury securities. If you are ready to take the risk and benefit from higher profits, you may choose more aggressive options with a fixed income. They are as follows:
Preferred Stocks. The asset will provide investors with a share of ownership in the company. On the other hand, they will not provide you with the right to vote. The good news is that you can still get dividends either on a monthly or quarterly basis.
Junk Bonds. They involve bonds rated below BBB. They are cheaper than safer bonds but generally pay higher interest rates due to higher default risks.
Limited Partnerships. While looking for what to invest in a bearish market, this option may come with greater risk if compared to stocks. On the other hand, with this approach investors can benefit from a bunch of competitive yields. Limited partnerships have proved to be a good way in case you prefer owning in Roth or traditional IRA.
Real Estate Investment Trusts. REITs are always ready to provide competitive interest rates that can guarantee a small but steady capital growth over a specific timeframe. Just as usually, investors can count on monthly or quarterly revenue that is generated from the pool of either rental or commercial properties.
How to Invest in a Bearish Market Safely
Sometimes, investors cannot figure out how the market is going to move next. This fact can make beginners feel confused. This is where safety precautions are vital to protect your capital. A good idea is to convert some of your holding assets into real cash (at least for a while). Such actions can increase the level of margin safety.
Whatever you do, disciplined investing is the key to success. A bearish market does not mean the end of the world. Sooner or later, a bullish market is about to come. So, you need to be well-prepared for that and keep your head cool.
This material does not contain and should not be construed as containing investment advice, investment recommendations, an offer of or solicitation for any transactions in financial instruments. Before making any investment decisions, you should seek advice from independent financial advisors to ensure you understand the risks.