All beginners are eager to enter the financial market with a winning strategy to start earning right away. However, only a few really try to work out a strategy that will work. Copy trading is an ultimate solution for those who do not want to do the learning curve or spend years developing a winning approach.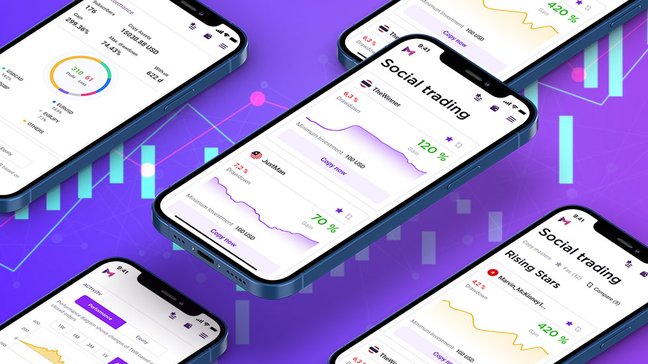 Forex copy trading is a fast and simple way to get started. It is the concept of replicating trades of experienced investors and sharing both profit and losses. It will be wrong to say that copy trading guarantees 100% of success. At the same time, it is probably one of the safest and most effective ways for newbies to learn how the market works and learn from the best in real-time.
In this article, we will discuss how beginners can make the best of various copy trading strategies performed by successful and experienced signal providers.
4 Reasons for Beginners to Use Proven Copy Trading Strategies
The approach delivers many great benefits we are about to discuss. Besides, it comes with enough flexibility. It is not just about traditional Forex copy trading but also other instruments to buy and sell. For example, cryptocurrency fans will appreciate copy trading crypto as well as indices, commodities, and more.
As for the main benefits, they are as follows:
Minimum Learning Curve. If you hear someone saying "trading is a piece of cake", never believe it. The process is very complicated. It requires a deep understanding of how financial markets work. On the other hand, copy trading is the way of replicating orders of more experienced investors. It means no need to do the learning curve, at all. Additionally, you have a great opportunity to learn from the best when subscribed to a trusted copy trading platform.
Time-Saving Approach. Copy trading is a good option if you are not planning to become a full-time trader. Professionals spend many hours per day trying to hunt down a potentially profitable trade. If you do not have that time, do not start trading or opt for copy trader's tools.
Portfolio Diversification. It is an important benefit, as keeping your portfolio diversified will protect your capital from losses. When you trade a single asset over and over, there is always a risk of a trend moving against you. Oppositely, when you mirror several signal providers at a time, you diversify your portfolio and copy trading strategies.
Stable Passive Income. The concept has grown into a full-scale source of passive income. Initially based mainly on trading signals provision, today it is a ready-to-use and full-scale technique that can generate passive income. Users can benefit from automated approaches that prevent them from any manual configurations.
Copy Trading Risks Beginners Should be Aware of
Some newbies will definitely ask if copy trading is risky. The answer will be "yes". Any trading strategy is risky no matter how experienced or successful you are. Markets can move unexpectedly. However, having a well-tuned copy trading strategy help to avoid the majority of risks. The concept is very transparent, as you can real results of each introducing broker (signal provider) BEFORE subscribing. What's more, you can enhance your approach with the following simple steps:
Track the Risk Score. Always check out the trading results of each introducing broker. As a rule, copy trading platforms provide access to the track record of each investor you plan to copy. So, you can select the one by the highest rate, the biggest number of successful trades, or other parameters.
Revise Copied Positions. A good idea is to revise and monitor positions you have already copied. They include both successful and losing ones. It will let you learn in real-time and decide on what has gone wrong and why.
Keep Diversifying. The more diversified portfolio you have, the lower risk of losing it all.
Also, do not forget to check the list of major mistakes beginners should avoid when using copy trading.
This material does not contain and should not be construed as containing investment advice, investment recommendations, an offer of or solicitation for any transactions in financial instruments. Before making any investment decisions, you should seek advice from independent financial advisors to ensure you understand the risks.