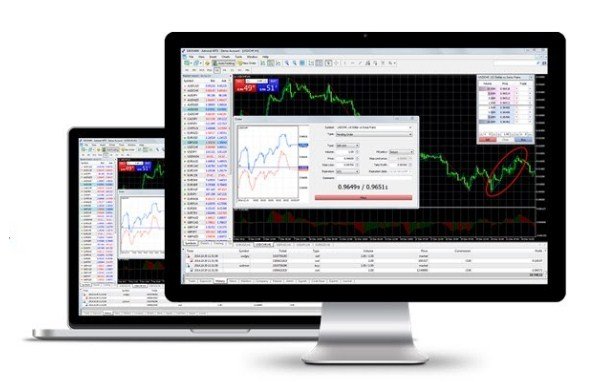 Download MT4 for Mac OS and enjoy the full range of MetaTrader 4 advantages for Forex and CFD trading. From now, traders, who use desktop and mobile devices powered by Mac, will have full access to a set of features and instruments delivered by the ultimate Forex platform.
MTrading customers can take advantage of the same functionality as in other MT4 versions. In other words, Apple device users will have the same options as traders who work on Windows.
You do not need to search for additional plugins or software to install and configure. The platform is fast and easy to set up with just a click. It comes along with trading advisory, technical analysis, and other crucial instruments both beginner and pro traders would rather have.
The Core Benefits of Using MT4 for Mac
Our mission is to ensure flexible and safe trading. Either you want to access ultimate trading instruments for your iPad, MacBook, or iPhone, you will appreciate the following advantages:
Free MT4 for Mac – download the platform free with just a click.
Ease of Use – no emulators or third party software installation is required.
Advanced Trading Tools - trade Forex and CFDs with the familiar real-time quotes, real-time charts, superfast order execution
Expert Advisors (EAs) Support – don't miss out on any MetaTrader features anymore.
Customized Trading - one-click trading with stop-loss and take-profit setting directly in the chart
100% Responsive Platform - Running smooth and stable at a convenience level previously only available to Windows users.
MTrading now offers Mac OS X users the full integration into the world of trading! It's never been easier to install MT4 on your MacBook, iPad, or iPhone.
*Please note, the software is compatible with OS versions up to, and including Mac OS Mojave 10.14.
How to install MT4 on Mac - Step-by-Step Guide
Download the installation file and open it. Drag the MTrading MT4 file into the applications folder. The installation will start automatically. Now, you need to follow several stages to start running the platform.
1. Launch the Software
Your MetaTrader 4 is now installed and will run automatically. Log in with your live or demo log-in details. If you don't have the account yet, the Trader's Room will start in your default browser in the background to help you to sign up.
2. Start Trading on MT4
Trading on your MacBook works like on a Windows PC. Open the MetaTrader standard order form by pressing "f9" and "fn". You can make use of the one-click trading tool by clicking on the little triangle in the upper left corner of the chart or by right-clicking in the chart and choosing 'one-click trading alt+T'.
Please note: You'll have to accept the one-click trading tool conditions before you can use it. In case you accidentally declined the conditions or closed the window, just open the window displaying the conditions again as follows: Extras > Options > Trading > One-Click-Trading > Tick the box.
3. Install EAs, Indicators, and Scripts
To install additional tools like Expert Advisors (EAs), indicators or scripts, open the program folder and right-click on MTrading MT4. In the menu that opens, choose Show Package Contents. Now you see the entire content of the installation file. Double click on "drive_c" to get to the MetaTrader structure on your MAC.
Now, when you see the usual MetaTrader file structure, you can place your EAs, indicators, and scripts.
Please note, if you experience problems with visualization of specific EA in your MT4 Terminal - we advise you to download these fonts. To install the font - double click on the downloaded file and press "Install Font".
What Is MT4 for Mac Necessary For?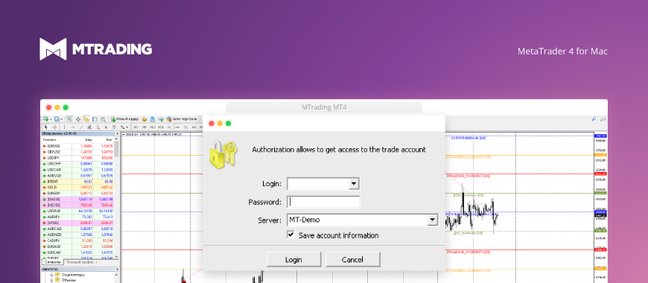 MT4 for Mac makes it easy for traders to get market insights to predict trend movements, prices, etc. It comes with powerful advisory support as well. The software highlights the key points delivered in charts, signals, indicators, so on. As a result, traders benefit from precise info to deal with:
Detailed market overviews.
Execute market orders.
Automated trading algorithms
AI-driven trading advisors.
Technical analysis.
Real-time market data processing and more.
To start trading Forex on MetaTrader4, you can sign up, and a personal manager will guide you through all steps from registration to placing your first order. We also offer free demo accounts to try out our services and test your trading strategy.
MTrading has tested all applications on Mac products and recommends them for all Apple users. However, trading with those applications is at your own risk. Familiarize yourself with the features and functions of the applications before starting to trade – if you don't have enough experience, you can always test the terminals with demo accounts first.
Read about trading strategies in our Education section: