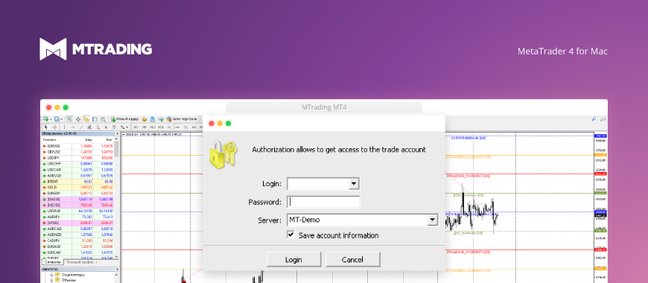 Since its introduction in 2005, MetaTrader 4 (MT4) has become the most widely used Forex trading platform worldwide. Its developer, MetaQuotes Software, has continuously been making improvements to make the platform more powerful and secure and to add to its already impressive range of new features permanently.
MT4 also provides support for Android, iPhone, and iPad so that you can manage your trades on your tablet or smartphone from anywhere there is an Internet connection. The mobile version of the MT4 offers the same functionality as the desktop version, allowing traders to access the tools of the platform and even manage and place trades.
How Does MT4 for Windows Work?
MetaTrader4 for Windows comes as a downloadable app. It means the tool requires the initial installation to let users access all of its features and trading instruments. To get started with the software, you need to:
Download MetaTrader4 for Windows with this MT4 installation file.
Open the MT4.exe file and run the installation process.
Configure the trading platform.
Complete the setup on your local PC.
Once MT4 has been downloaded and set up in the trader's computer, the trader immediately receives access to live price data from the Forex markets. Besides, traders can also retrieve historical price data from the MT4 Historical Center that they can use to backtest their strategies and determine their effectiveness.
Simples Steps to Download MT4 for Windows with a Click
Since MetaTrader 4 is a tool, it doesn't provide access to trading directly but helps you to enter the financial markets with a broker. Make sure you sign in with a reliable broker and the best trading conditions. To start trading on MetaTrader4, you can sign up with MTrading, and a personal manager will guide you through all steps from registration to placing your first order. See for yourself how simple the MT4 for Windows installation process is.
MetaTrader is 100% compatible with all major Windows versions including the latest 10 and 11 OS configurations. The good news for users is that the platform does not have specific system requirements. It will run equally well on any machine.
We have already mentioned installation steps earlier. Now, let's have a closer look at each of them to get it set right and start trading right away.
1. Download the MT4 Installer for Windows
All you need is to follow the MTrading official download page and click the "download" button to get an installer as shown below.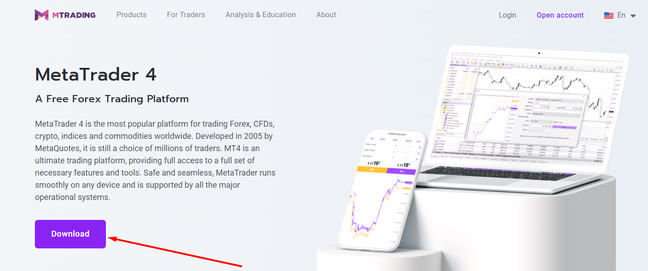 The system will not require any additional information. Anyone can download MT4 for Windows installer without registration. It is free to use.
2. Read the License Agreement
Every user is familiar with this stage. It is similar to other software you want to download. The Installer will ask you to read and agree with License Statements. Press "agree" or "next" to move on.
3. Install MT4 for Windows
After you agree with License and press the "next" button, the installation process will be launched automatically. Just wait for a couple of minutes until the program is set and ready to use on your device. The time required for software installation may depend on your CPU capacity and hardware quality.
4. Log in and Start Trading
The last stage is to click the "Finish" button to complete the installation process and open MT4 on your computer. Additionally, the system will create a desktop icon to let you easily find and launch the platform whenever needed.
To start trading, make sure you already have a MTrading account and simply sign in. If not, open a new account in just a few clicks to explore all the benefits of the leading trading platform for Windows devices.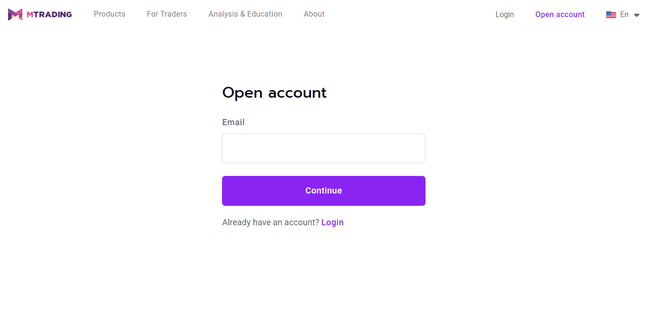 How to Open a Trade with MT4 for Windows
After you successfully install MT4 for Windows, it is time to open the first trade. Make sure you are logged into your MTrading account to use different MetaTrader features like live price charts, technical indicators, built-in Expert Advisory, and more.
To place a trade, one needs to open a chart. First of all, it is required to define a trading instrument you want to buy or sell. It can be selected from the "Market Watch" window displayed on the left screen of the platform interface.
Note: if you cannot see the "Market Watch" window, press Ctrl + M to activate it.
When you select an instrument, it is required to open a price chart by right-clicking on the instrument. Then, select the "Chart Window".
Now, you can place a trade anywhere on a chart. Simply choose an area and right-click. Then, select "Trading" – "New Order" to choose a type of order, set a stop-loss, and indicate the desired trading volume and other crucial parameters.
We also offer free demo accounts to try our service and test your strategies. MT4 delivers a wide range of charting options to allow traders to detect trading opportunities easily. Nine available timeframes, ranging from as short as a minute to as long as a month, help traders distinguish trends and identify patterns.
Also, there is a big assortment of technical indicators programmed into the software, ranging from simple Moving Averages to sophisticated Bollinger Bands. These indicators help in identifying the trend, entry and exit points, volumes, and risks. Get your ultimate trading platform now absolutely FREE!
Core MT4 for Windows Features
The platform has proved to be a flexible trading instrument with an array of exclusive features delivered out of the box. It comes with a set of integrated options that let traders make fast and precise decisions, identify potentially strong trends, and monitor the price movement. With MetaTrader4 for Windows, users will be able to implement:
Comprehensive Trading Systems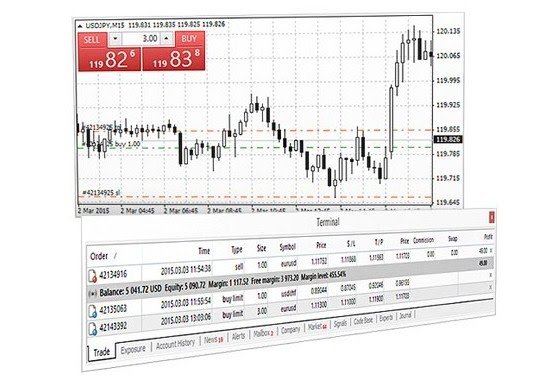 The tool comes with support for major execution modes. They include pending and stop orders, trailing stop function, and Instant Execution for maximum flexibility.
Technical Analysis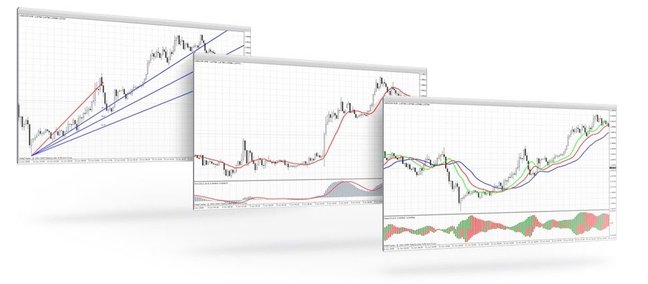 Benefit from expanded analytic opportunities, 30+ advanced Forex indicators, signals, and charts. Make the most of the Technical Analysis feature to overview market insights brought to you by a set of combined instruments to track the trend movement price, and other crucial parameters.
Secure and Convenient Trading with MT4 for Windows
The platform meets the highest requirements and standards when it comes to safe and secure trading. It supports the latest technologies and uses encryption to protect data exchange between the client and the trading platform itself. It comes with additional RSA signature functionality to protect personal trading accounts from the slightest hint on fraud.
How to Use MT4 under Real-Market Conditions
The convenience of automated trading is also available as MT4 features Expert Advisors that are designed to identify market trends that could indicate a trading opportunity and alert the trader. A simple drag-and-drop interface allows traders to add indicators and EAs to their charts easily.
Once traders are ready to make a trade, they can do so quickly from the Order menu. When the position has been opened, the trader can modify it or even close it at any time. It gives the traders full control over their trading activities.
Unlike other trading platforms, the MetaTrader 4 allows locking positions: A trader might hold positions to buy a certain amount of asset, and position to sell the same amount of the same asset at a time. Hedging positions like this enables clients to use enhanced trading strategies.
Try this ultimate trading tool now at zero cost, Download MT4 for Windows with a click!
MT4 also provides support for Android, iPhone, and iPad so that you can manage your trades on your tablet or smartphone from anywhere there is an Internet connection. The mobile version of the MT4 offers the same functionality as the desktop version, allowing traders to access the tools of the platform and even manage and place trades.
Read about trading strategies in our Education section: