Bitcoin trading is different from conventional Forex strategies. The market is decentralized and not regulated by major authorities like central banks. However, investing in cryptocurrency has become the financial mainstream since 2017, when the sector witnessed a huge speculator rise.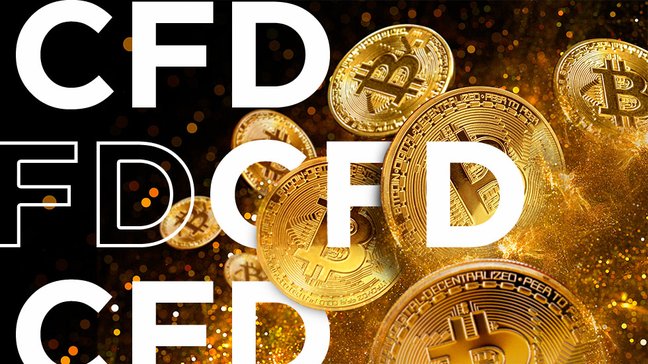 The difference between crypto and Forex makes most beginners confused. They do not know how to trade bitcoin and other popular coins the same way as the trade currency pairs. The main question is if that is really possible. Can one trade Bitcoin CFDs on the Forex market? This is the question we will try to answer in this article.
Bitcoin Trading Characteristics
Before we try to understand how to trade Bitcoin CFDs on Forex, we need to highlight the main cryptocurrency's characteristics to understand how the market works:
BTC is a digital currency that can be used for purchasing real goods and services. More and more websites accept Bitcoin although using cryptocurrencies can be restricted or banned in some countries.
Blockchain comes with a huge potential featuring more and more start-ups joining the market each day to offer new services and products.
Crypto trading comes with high volatility thanks to the growing supply and demand dynamics.
The crypto sector is facing growing competition representing more than 17,000 different cryptocurrencies that include tokens, coins, NFTs, and more.
Generally, coins are traded via niche-specific crypto exchanges. However, is it possible to trade Bitcoin on the Forex market?
Bitcoin Trading on Forex: Yes, or Now?
It was impossible until the introduction of CFDs (Contracts for Difference). To learn more about how they work, you can benefit from great books on CFD trading. The approach made crypto trading much simpler. What's more, leading Forex brokers offer Bitcoin trading with leverage.
Despite some differences between crypto and Forex trading, you can use the same trading platform offered by a broker. MT4 will definitely meet all your needs offering a rich toolset with all needed indicators and instruments to make the most of your Bitcoin CFD trading strategies.
MetaTrader 4 has proved to be the ultimate software for trading Contracts for Difference. Here are some of the top features both retail and crypto investors will appreciate:
High-end charting instruments – the platform makes it easy to use a variety of charting instruments that ensure a high-probability trading approach on either the Forex or crypto market. You can use trend lines, Fibonacci levels, channels, and other patterns to be applied to a trading chart.
Different timeframes to set – traders can select a variety of periods for scalping as well as crypto or Forex day trading. MT4 makes it easy to apply to a running chart with just a few clicks.
A selection of order types – investors are free to place a variety of different orders. For instance, it is possible to place a pending order with MetaTrader 4. Its main feature is the ability to turn into a regular order as soon as specific market conditions are met. Other order types include all types of buy/sell stop and limit orders.
Now, let's have a look at the most popular Bitcoin CFD trading techniques.
Steps to trade Bitcoin Volatility
As stated earlier, Bitcoin trading comes with extreme volatility. On the one hand, it can bring greater risks. On the other hand, traders can benefit from more opportunities to gain wealth. It is very important for beginner traders to clearly understand the difference between volatility and trading risks. This is where proper money management comes first. So, make sure you place a stop-loss order on each of your trades as a part of the risk-management strategy.
Position size is another crucial factor to take into account, especially if you choose to trade with leverage. Any news or global event may have a strong impact on the cryptocurrency price. It can boost the asset value or make it drop heavily in a matter of seconds. Traders who opt for larger positions under circumstances that are sometimes very hard to predict, risk washing their account away on the spur of the moment. The chances of receiving a margin call are very high. So, you need to keep an eye on the position size keeping enough funds to maintain the possible price fluctuation.
Note: crypto trading requires the same precautions and safety steps as any other market. Traders should not invest more than they can afford. Additionally, it is important to consider the reward-to-risk ratio for each trade.
Bitcoin Scalping
Scalping can turn out to be a very powerful approach to Bitcoin trading. The technique can work well when trading not only BTC but also other coins within a short timeframe. The main idea is to utilize a combination of mean-reverting and trend-following instruments, while the entire strategy relies on the following three indicators:
50-period moving averages – an indicator that helps identify a BTC trend within a short timeframe.
100-period moving averages – works the same as the previous one. When you see 50-period moving averages crossing 100-period moving averages from above, it means we are about to observe the asset uptrend. If the cross is plotted below 100-period moving averages, it is a signal of the downtrend.
Stochastic indicator – the oscillator helps to identify bullish and bearish market conditions. So, you will always know when to avoid long positions in case of overbought market conditions and going short when the market is oversold.
The Bottom Line
CFDs make it possible to trade Bitcoin very similarly to Forex. Traders can buy and sell BTC using leverages. MT4 provides a selection of great tools to keep an eye on the asset trend along with indicators to launch day trading and scalping strategies.
This material does not contain and should not be construed as containing investment advice, investment recommendations, an offer of or solicitation for any transactions in financial instruments. Before making any investment decisions, you should seek advice from independent financial advisors to ensure you understand the risks.