$100 is not enough to buy something really special these days. However, it can be enough to start trading. With this sum, beginners will have a chance to generate a new source of income. Of course, one should not expect huge returns with such capital. On the other hand, it might be enough to develop and implement successful strategies.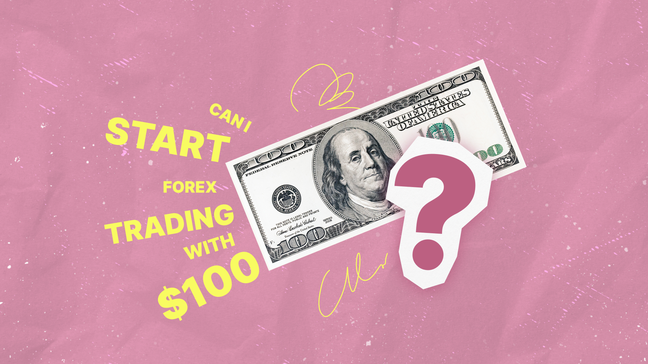 The good news here is that even if you lose $100, it will hardly break the bank. Oppositely, newbies will try their techniques and trading plans under real market conditions. In the end, it does not matter if you trade with $100 or $1,000,000. You must always stick to the plan and apply specific money and risk management approaches.
How to Start Trading with $100
As stated earlier, capital size does not come first. Successful trading is the result of several factors combined together. They include selecting a trusted online broker, analyzing the underlying market, developing a strategy, protecting account balance, and managing risks. Here are some vital tips that will make it possible for amateurs to start purchasing and selling currency pairs even with $100 on the balance.
1. Do the Research
Like in any other field, knowledge of the financial market is power. The market is one of the most traded sectors offering a huge trading volume and liquidity (the key components of successful trading). If you know how the market moves, it will definitely increase your winning chances.
Some beginners prefer a quick gamble with their $100 ignoring fundamental aspects. This is why most of them fail to achieve consistent success in the long-term perspective. The good news is that each trusted MT4 broker provides a comprehensive knowledge base and educational sources so that customers could learn as much about strategies and indicators as possible.
So, the first thing you should do to trade successfully with a hundred is to analyze the market using all possible tools. Traders can choose from several options depending on their technique:
Technical Analysis – mainly used by day trading fans, the technical analysis relies on charts and computed technical indicators integrated on the MT4 platform. The approach can be used to predict short and long-term market trends, price movement, and some other factors that may have some predictive value.
Fundamental Analysis – the method is used by traders who rely on economic releases and market news. As a rule, fundamental investors keep an eye on geopolitical shifts, policies established by central banks, interest rate levels, GDP, employment rate, and so on.
Technical and fundamental analysis are the two different principles that refer to different trading approaches. To define which one meets your trading personality the most, we need to move to the second stage.
2. Test Your Strategies
As a rule, a chosen online broker will provide customers with a demo account. While you have only $100 on the balance, it is a great chance to try different techniques without risking real cash. The main reason to open a demo account is the ability to feel the real-life market and learn with no need to commit real funds. Besides, it is a great opportunity to develop a winning trading plan with zero risk.
A demo account is not the only way to trade using virtual funds. Traders can benefit from paper trading. Another good option is to learn how to take and manage risks in real-time. Traders will experience losses and win much the same way as in a real environment. It supposes using a specific mindset and approach that will let you properly manage your virtual capital before entering the niche with real cash.
3. Load Your Balance and Start Trading
After you've gained enough confidence with practicing on a demo account or with virtual funds, you can fund your account and start trading. It does not matter how big your starting capital is. Even if you have only $100 on the balance, it is important to consider means to protect your trading account balance. Additionally, newbies may get extra bucks to the balance thanks to different promotions. For example, a deposit bonus is an opportunity to get up to a 200% match on the initial deposit.
Investing in the live account is similar to demo trading. Users have the same tools provided via MT4 – an ultimate cross-platform trading tool. All you need is to remember your trading plan and stick to it whatever happens.
Generally, most brokers provide micro lots (0.01) for those who trade with small accounts. It is a good chance to get started and eventually increase your working capital. Once the capital volume has gone up, you can opt for lots of bigger sizes. The key to success is to avoid taking larger positions that exceed expected losses. It does not matter if you are a technical or fundamental trader. Sound money management systems are vital.
The last thing here is to choose a preferred currency pair. As most of you know, investors trade three different pair types: major, minor, and exotic. While the situation in the market is changing rapidly, we recommend major currency pairs like EUR/USD, USD/JPY, and others.
4. Review Your Budget
Although $100 is not as much as we all want to have on the balance, the sum is enough to allocate the capital and start trading on the real market. Experts say beginners should stay with a $100-balance for as long as possible.
The idea is not to rush and expand their funds. Even quarterly allotments of $100 can eventually turn into a solid financial background in the long run. Those who plan to reinvest may increase their capital to around $125 or $150. However, make sure the increase will not make you feel uncomfortable.
This material does not contain and should not be construed as containing investment advice, investment recommendations, an offer of or solicitation for any transactions in financial instruments. Before making any investment decisions, you should seek advice from independent financial advisors to ensure you understand the risks.