Analyzing markets is very important before getting into the game. Both crypto and Forex trading comes with specific risks and benefits. So, it is crucial to compare and contrast all factors, trading approaches, possible stumbling blocks, and challenges that may arise on the way to success.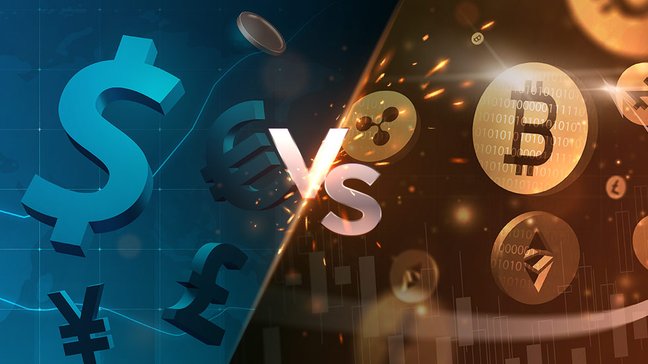 The idea is to define the sector where you will find it easy to apply either crypto or forex strategies. Beginners should be well-aware that none of these markets will be a walk in the park. However, in general, Forex day trading is associated with a safer and simpler market to get started.
In this article, we will find out if it is true taking into account several important factors connected with traded volume, asset safety, and how simple the market is for beginners with no or little experience.
Crypto vs. Forex Trading Comparison Table
The Key Differences between Crypto and Forex Trading
The first thing beginners need to keep in mind is that traditional currencies and crypto are totally different assets although they both contain the word "currency". Despite those differences, like any other asset, they have a strong connection with supply and demand. This is what actually determines the current asset price.
As for the fundamental factors that make the two markets different, you should note the following:
Forex trading considers purchasing and selling currency pairs. All operations take place on international exchanges and markets available round-the-clock.
Crypto trading is associated with buying and selling digital currencies (tokens, coins, NFTs, etc.)
Also, Forex trading is available worldwide with no restrictions. As for crypto, some regions have input bans on coin trading. This can be a challenge for traders from particular countries with restrictions or bans on operations with cryptocurrencies.
Forex vs Crypto – Which One is More Tradable?
It appears that the crypto market offers more trading opportunities. They include not only major coins like BTC or ETH but also less popular assets. On the whole, traders currently may choose from more than 17,000 officially listed coins including some of the most actively traded.
Forex trading offers fewer options. They generally involve currency pairs that are divided into three major categories: major, minor, and exotic. If you look for considerably liquid but less risky assets, major currency pairs are a better option compared to minor and exotic ones.
Forex vs Crypto – Which One Is Safer?
The main benefit of choosing Forex trading is the fact that the market is highly regulated by central banks. On the one hand, it means a safer approach and control over the situation from major institutions.
On the other hand, banks may intervene in the Forex market in case of a weakening economy. They increase interest rates, control the currency volume, and take other actions to help the economy recover. This can affect your trading in either a positive or negative way.
The crypto market is not regulated at all. The sector does not have a larger regulatory authority to keep control over the situation. It means unexpected and sudden leaps and bounces in the asset price. For example, in 2020 during the pandemic lockdown, BTC dropped from $10,000 per coin to $4,000 losing more than half of its value back in 2021.
New coins that are known less generally have no liquidity and potential to grow wealth. Crypto rug pulls are another problem.
Forex vs Crypto – Which One Is Easier for Beginners?
Any market can be a tough challenge for a novice trader with no prior experience or background. It is better to test your skills using a demo account or paper trading. If you are still eager to start trading on real cash, copy trading is a perfect solution to team up with an expert and replicate his or her traders to share profit and pick up essential skills in real-time.
On the one hand. The crypto market looks a bit more flexible in terms of selecting a platform and trading conditions. The sector is so decentralized that beginners can benefit from lower fees and extra charges, which can eventually make a huge difference when trading larger volumes.
On the other hand, Forex trading offers a higher liquidity level making it better for investors to buy and sell assets at more affordable prices. Additionally, you are more likely to enter or exit an underlying position faster. It means that with Forex trading, beginners can convert each trade into profit faster. This is what makes Forex day trading a better option from a gaining perspective.
The Bottom Line
Choosing between crypto and Forex trading should be an individual decision based on specific factors that suit a particular trader. No matter what market you choose, make sure you know how it works, what risks to be aware of, how to avoid scams, and select a trusted trading platform with the best trading conditions.
This material does not contain and should not be construed as containing investment advice, investment recommendations, an offer of or solicitation for any transactions in financial instruments. Before making any investment decisions, you should seek advice from independent financial advisors to ensure you understand the risks.