A gamma squeeze describes extreme conditions when a trader is forced to purchase stocks when the price is up. The gamma squeeze meaning depicts rapid shifts in an asset price that push investors towards selling or buying stocks beyond their normal trading pattern or plan.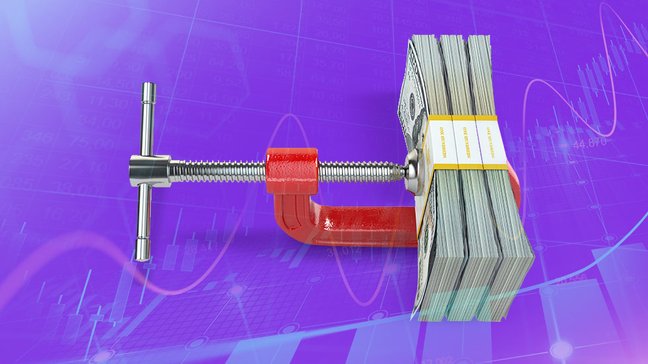 We have already observed an example of such a gamma squeeze back in 2021. AMC shares performed a dramatic increase forcing investors to purchase them at a higher price in an effort to minimise potential losses. Today, we will try to figure out how the concept works and how it actually influences the stock price.
Gamma Squeeze Explained for Beginners
As we have stated earlier, the gamma squeeze meaning introduces a stock price with an unforeseen and rapid stock price movement. It does not generally have to be an extreme rise. The concept involves also dropping value. The main idea is that the situation makes traders feel "squeezed" with no opportunity to follow their traditional patterns and trading templates. They have nothing to do but change their positions (going long instead of short and vice versa).
How Gamma Squeeze Works
To observe a gamma squeeze, the stock market must meet specific conditions. It works the following way:
We have investors making specific assumptions about an asset price. Let's say, investors assume that the price of a stock will go up.
This leads to buying stocks on a large scale, which inevitably increases that stock value.
On the other side, we have institutional investors in an effort to sell stocks within a short position.
The more stocks traders buy, the more shares institutional investors have to sell. Otherwise, they will have no instruments for hedging against short positions they were put by the gamma squeeze.
The following concept mainly refers to call options. At the same time, it can also occur when using short-term stock trading strategies as well.
Factors that Cause a Gamma Squeeze
Generally, the condition results from widespread speculations regarding the potential direction of the price movement. Imagine a company that faces financial problems. For some institutional investors, it is a signal to sell stocks, as they believe the price will drop even lower.
The most unusual thing happens when one or several investors start buying stocks instead of selling them and following widespread logic. It results in a short-term squeeze.
What It Means for Investors
On the one hand, a gamma squeeze can bring some great profit opportunities. At the same time, it can be extremely risky. The key to success here is to clarify what reasons actually led to such market conditions. What is the main cause of the current gamma squeeze? When you know the cause, you can foresee how long it will take.
A gamma squeeze can last for several days or even weeks. At the same time, experienced traders have seen many examples when it just petered out too fast. What we are trying to say here is that timing is a crucial factor. It will determine whether you can benefit from a gamma squeeze or it will lead to a loss.
Keep in mind that price can make an unexpected and fast reversal leading to a rapid decline. For this reason, this particular trading strategy cannot be the right choice for you. If you are looking for a safer way of investing, the best idea is to opt for traditional stock trading, mutual funds, and so on. These approaches do not require guessing the price. Instead, you can use different instruments to have a deeper market overview and come up with an accurate price prediction based on historical and other data.
The Bottom Line
Certainly, a gamma squeeze is able to create particular profit opportunities. However, it comes with enormous risks, as the market condition depends on stock price speculation and guessing. So, you need to think twice before attempting this particular approach or opt for safer and more reasonable ways of trading stocks.
This material does not contain and should not be construed as containing investment advice, investment recommendations, an offer of or solicitation for any transactions in financial instruments. Before making any investment decisions, you should seek advice from independent financial advisors to ensure you understand the risks.