Gold is one of the earliest currencies. For many decades, it has been serving as the most reliable store of value for individual and corporate investors. Over the years, people trade gold turning it into a kind of fiat currency, recognized by gold traders as a form of wealth.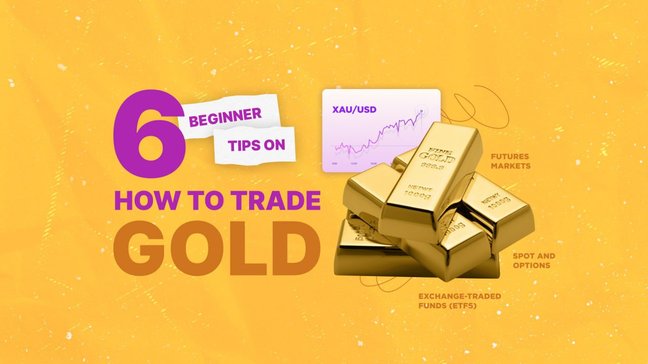 Another thing that has always made gold and silver trading very attractive is the fact that precious metals are something real, not just numbers on someone's computer.
In this article, we will discuss 6 essential tips on how to trade gold taking into account the current situation in the global market with the majority of European stocks, crypto, and other assets hitting their historical bottom.
Reasons to Trade Gold Today
Gold trading has evolved. Today, people do not have to purchase coins or bullion physically. The modern market has become even more diverse offering plenty of ways investors can buy different forms of precious metals.
Of course, it is still possible to purchase and owe the asset physically. Alternatively, gold traders can make the most of advanced trading platforms that offer a variety of methods and strategies to trade precious metals depending on the user's skills or preferences. Some of the major options include:
Futures markets;
Exchange-traded funds (ETFs);
Spot and options.
Forex traders can also benefit from gold trading opportunities. They can buy and sell this precious metal against major currencies, like USD or EUR.
Ways to Invest in Gold
Some of the gold trading tactics require special analytical skills. You will need to constantly monitor the market and keep an eye on the major factors that move the gold price. Those, who are new to the market, can opt for several common options when getting started:
XAU/USD (the gold spot is traded against the U.S. dollar).
CFDs (gold Contracts for Difference).
Gold ETFs exchange-traded funds).
Stocks that are issued by gold mining companies.
These are the most popular ways gold traders can invest in their preferred asset depending on a chosen investment approach and trading goals. Today, we will have a closer look at the first method on our list.
Tips to Trade Gold as the XAU/USD Pair
If you are a dedicated Forex trader, you will probably try to trade gold as the XAU/USD pair. The approach is quite similar to trading other currency pairs you are used to. However, the process can be quite tricky. The following tips on how to trade gold will help you avoid major mistakes and keep your capital safe.
1. Keep an Eye on Central Banks
Central banks usually own gold as it supports the issue of banknotes and coins. Traders need to pay attention to all purchases made by major central banks in gold. The precious metal helps nations to keep their reserves in gold and foreign currency stable.
When you see one country buying gold, it means the government takes measures to hedge risks. It is a sign of a weakening economy – a fundamental indicator. So, if central banks start buying more and more gold, you should watch out.
2. Consider the Connection between Currencies and Geopolitics
Currencies fluctuate all the time. Their price and rate are influenced by a variety of factors. They include geopolitics or economic uncertainty. It leads to extreme market volatility when it comes to currency pairs.
When having an opened XAU/USD position, you actually have your position protected from unpredictable market changes. Another benefit of the approach is that gold is always in strong connection with the world's strongest currencies. It means you can trade it against EUR, GBP, Yuan, etc.
3. Track Previous Highs and Lows
Gold traders have an excellent opportunity to track previous XAU/USD highs and lows as a tool to support generated buy and sell signals. For example:
If gold is in an uptrend, you should use the previous historical level as a selling price.
If the metal is in a downtrend, the previous level can be used as a buying price.
The strategy of targeting previous highs and lows comes with lower risk. However, it will not suit day trading. Gold will need some time to reach its previous high and low levels leaving zero opportunities for a quick upside.
4. Consider Gold Trading Hours
Experts recommend using New York gold trading hours, although the asset can be purchased and sold round-the-clock. Historically, NY trading hours deliver maximum liquidity. Gold traders usually prefer peak hours, when the market volatility is lower.
5. Explore Forex Indicators
Like with any other currency pair, trading XAU/USD will require using specific Forex indicators. For this particular asset, you might need to analyze the Symmetrical Triangle. It is a simple-to-read chart pattern used to express the period of consolidation before the price breakout takes place.
As a rule, you will use the symmetrical triangle in combination with other indicators, for example, the RSI. They help to identify the potential price breakout while the symmetrical triangle is used to confirm and support signals. You can trade more confidently and make proper decisions.
6. Follow the Gold Demand
This particular tip refers to gold demand for either commercial or industrial use, for example, the jewelry industry. The idea is very simple, when the demand for gold starts growing in the consumer markets and other sectors, the gold trading price rises as well.
The Bottom Line
Investors can use several methods to trade gold. Some of them are good as long-term investments or portfolio diversification means. Others suit day traders and Forex market participants. XAU/USD is a good option for those who want to have their positions backed against major and world's strongest currencies.
This material does not contain and should not be construed as containing investment advice, investment recommendations, an offer of or solicitation for any transactions in financial instruments. Before making any investment decisions, you should seek advice from independent financial advisors to ensure you understand the risks.