Forex trading is the technique of converting one currency into another. Traders make a profit on price differences when purchasing and selling different currency pairs on the FX market. The main idea behind all Forex strategies is speculating on the currency that is expected to move up or down.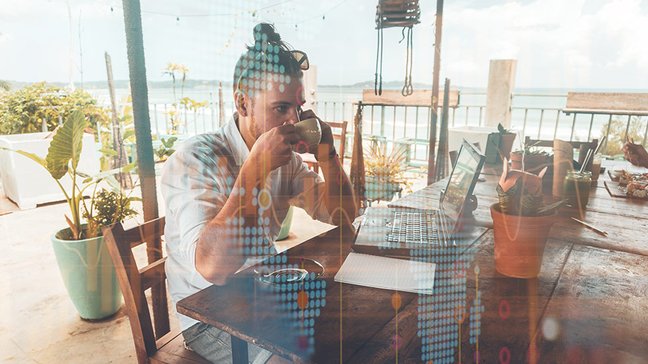 Today, investors can choose from a variety of online platforms that make it possible for users to execute all kinds of transactions fast and easily. A trusted Forex broker is a virtual environment where different market participants can place orders despite their location.
In this article, we will describe simple steps to become a Forex trading nomad and earn cash from anywhere across the globe.
How to Join Forex Trading from Anywhere in the World?
The FX market follows the latest technological trends. Investing no longer requires land-based Forex exchange sites like the ones we have seen in multiple movies about trading and finance. Modern technologies have brought the entire sector online making it available to users despite the location.
We actually have a cloud-based marketplace where anyone can buy or sell different currency pairs including major, minor, and exotic ones. All you need is to choose a reliable MT4 Forex broker to benefit from advanced tools and the best trading conditions.
The good news about Forex trading is the ability to access the market 24/7. Although it has specific trading hours, they are different depending on the country. One can access any of them depending on the preferred time. This fact makes Forex day trading available round-the-clock. Besides, this is why the FX sector is still one of the biggest financial markets in the world.
Key Forex Trading Advantages
Successful traders make billions on Forex trading. The two main reasons for their success involve the following:
Fluctuating Exchange Rates. Let's say you decide to invest in USD before the pandemic. After COVID restrictions have become milder, the dollar grew stronger against other currencies. It means, investors can potentially have a good profit. Another concept is associated with Forex day trading, which means buying currencies when they are doing well and selling them during the downtrend. Modern trading software and apps make it possible for investors to process thousands of transactions daily. The more traders, the higher the chances to win big.
Interest Rate Change of Two Currencies. When you find two different currencies with similar values, it does not necessarily mean they have the same interest rate. In simpler words, you can make a profit on the interest rate change between the two assets. At the same time, it is very important to consider market trends when making the next move. Forex indicators and charts are here to help traders make accurate predictions and consider a variety of factors that can impact the market differently.
4 Essential Pointers of Becoming a Forex Trading Nomad
Many newbies do not realize how tricky the FX market can be. They often overestimate their skills or enter the market with a lack of proper background or even baseline financial literacy. This is why more than 90% of them fail.
The good news is that modern technologies bring advanced trading solutions like copy trading that help beginners start investing with zero prior experience. Nevertheless, if you are eager to understand how the market works and trade on your own from anywhere, the following 4 pointers are crucial to take into account.
1. Select Proper Timeframes
The first thing you need to do is to decide on the chart period. Are you planning to use Forex day trading using shorter timeframes or invest in the underlying currency within a longer period? This is the first thing you need to think about.
Your choice will define the type of trading charts and patterns you are going to use inside the MT4 trading platform. It helps you automatically apply any period you need. However, a trader is the one to decide which period he or she wants to use.
2. Follow the Low-Frequency Concept
Low-frequency Forex trading represents the idea of avoiding trading too much. The majority of beginners are too ambitious. They can't wait to enter the market and "show all they got". They expect astonishing gain right at once.
As a result, they do nothing but chase their losses without the emotional ability to stop. Such an approach will wash all cash out of your wallet instantly. Another important thing with this pointer considers learning how to lose properly. Keep in mind that no one profits 10 out of 10. At some point, you will know what it feels like to fail.
3. Do not Do the Heavy Lifting
The main idea is to let the market do the heavy lifting for you. Focusing on an open order makes no sense. Once you have entered the market with any position, leave it to the market. All you can do is wait for the outcome. Do not let the trading process keep control over your emotions. As a trader, you only have to do your work, which is developing Forex strategies, placing orders, and waiting for the result.
Sometimes, too much analysis can be tricky. Traders, who try to dive deep into the market data on each trade, can eventually feel depressed, which leads to losing a particular trade. The ability to stay calm and keep emotions aside is very important.
4. Trade to Live Not Live to Trade
Becoming a full-time trader means totally depending on the Forex market. When investing is the only source of income, traders are naturally afraid of losing. They trade without a proper mindset and take every order too seriously. Even if you earn little profit, you still get revenue and, what is even more important, you become more experienced after winning under various market conditions. Living a stress-free life is better than chasing your losses in an effort to recover capital.
The Bottom Line
Becoming a nomad Forex trader is very easy. Modern technologies make FX markets available round-the-clock for any user despite location. Besides, this particular sector is yet one of the biggest financial markets in the world letting investors apply different approaches and strategies depending on their style. However, Forex trading can be tricky if you do not learn the four pointers we have discussed earlier.
This material does not contain and should not be construed as containing investment advice, investment recommendations, an offer of or solicitation for any transactions in financial instruments. Before making any investment decisions, you should seek advice from independent financial advisors to ensure you understand the risks.